Learn about how HRU fitted on Life raft works and what all the parts that make it. Read for detailed explanation here. HRU is the short form of Hydrostatic Release Unit, which is a sort of automatic releasing mechanism for the life raft in case the ship sinks. Let's learn about it more.
What is Hydrostatic Release Unit and Its Purpose
As already told, that it is type of arrangement which will lead to automatic operation of life raft, means, cut off and inflation of the life raft. You must be aware about the inflation arrangement of the same, in which we use Co2 cylinder to inflate it. But when we have ample
amount of time, we simply throw the life raft in to the sea, with a painter line attached to it. Sudden jerk on the rope, release the Co2 from the cylinder, and inflate the raft. You might be interested in read this:
All about ISM checks
But consider a situation when ship is sinking. At that time, HRU mechanism comes to play. When ship starts sinking, the life raft attached to the ship body, with the help of HRU, will get detached from it.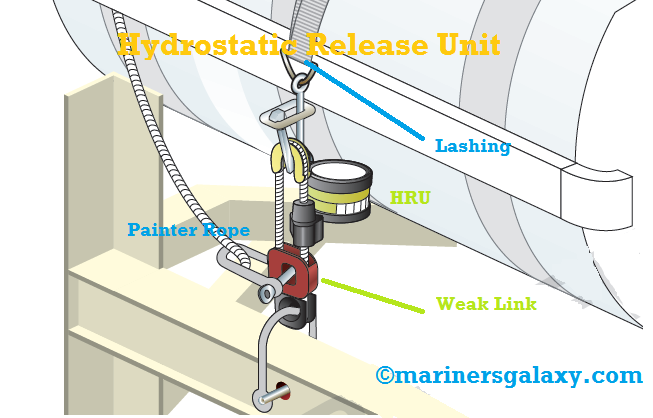 But How? Well you can see the diagram below; there is small circular box, named as HRU. So, when this reaches 1.5m below the water it will get activated due to water pressure. But when the depth reaches to about 4m, it will lead to cutting of lashing arrangement of the raft.
But still the painter is attached to the ship, right?
What is Weak link and what is its purpose in HRU?
OK, so in last Para we saw that raft is open, but still painter is attached. So as soon as boat unfolds its maximum painter, a jerk will take place. This jerk will result in inflation of lifeboat and also break the contact of the raft with the ship by a link called as 'weak link'. You can see that in above diagram.
Note: Regular maintenance of lashing arrangement of the Life raft, plus regular checking of HRU has to be carried out.
So, if you liked reading this stuff, then share with other also. This was all from the article based on Hydrostatic Release Unit.