Let's discuss about sea sickness in this article as what is it and whether it is true or not. If yes, then what we can do to prevent sea sickness from happening.
Sea Sickness is as simple as the name. People those who go to sea, for the first time (in most cases), find it uncomfortable for couple day to get accustomed to the environment out there at sea. In other cases, those who are already sailing, gets a feeling of vomiting sometimes. During the rough weather, sailors often vomit a lot due to high rolling. So, let's read in detail about this.
Sea Sickness-What is it?
Well when you move from one place to another, in total different geographical location, your body does take some time to get used to the environment out there. For example, if you are living in plain lands and then you move to the higher altitude region, then surely you might feel uneasy after 1 or 2 days.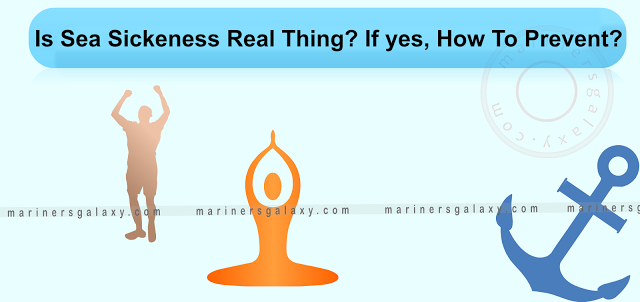 Same like this, when you move to sea from land, total change in the environment, air and water takes place. So people tend to feel relatively uneasy about their health. In fact those who come to sea after long time are the ones who suffer from this problem. Those who are regularly sailing usually don't feel such complications.The difference in viewing and moving, causes an imbalance your ears. Like you see sea, and you are moving on a vessel. This is also a major reason for sea sickness. Another case that comes under the sea sickness is the time, when you are travelling a region where there is high rolling. Due to this, everything inside your stomach tends to move like see –saw. And thus, people tend to vomit a lot
Symptoms of Sea Sickness
Here are some of the common symptoms that are related to this sickness like: Mild Fever for one or two days. Common cold
3)    Headache
4)    Loss of appetite
5)    Nausea and vomiting
6)    Uneasiness in the stomach
Sea Sickness Treatment And Prevention
Well since this is a common phenomenon and usually takes only couple of days to get over. But if things get worse, you should probably go to the
medical officer onboard
for further process. Here are some of the ways by which you can prevent sea sickness a little bit:
1)    Keep yourself busy, don't constantly think about it. Take oral diet like coconut and lemon water. Eat light and healthy.
5)    A little exercise might also help.
6)    For rough weathers, better is to keep your stomach full all the time and try to sleep as closed tight to the bulkhead as possible. This will prevent the movement of food inside the stomach.
Engine room
is the best place during these times.
Now comes the treatment part of it:
1)    If possible have some sour candy in your mouth, to avoid feeling of vomiting.
2)    For fever and cold, take some common medicine.
3)    Take rest and don't go out in sun.
4)    If it is hot out there, a cool lemonade or coconut water is a must.
Note: Sea Sickness is totally different from the heat stroke as symptoms might be same. So, be cautious about the heat stroke, as it can happen to anybody out there.
So this was all from this article, if you have something to add in to it, please feel free to comment below. This was all from this article on 'Sea Sickness and How to prevent it'.