This is the story of Ukranian Seafarer Kateryna Volovyk.
1. Can you please tell us a little bit about yourself?
I am 26 year old, coming from Odesa, Ukraine. I currently am a safety officer at Mystic Cruises.
2. How did you get into sailing?
Joined the marine academy & finished it.
3. How long have you been sailing?
I joined my 1st ship as a cadet in 2014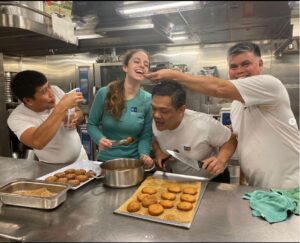 4. How has the recent war in Ukraine have affected seafarers?
Male seafarers can't leave the country, so either they have to stay out or have to pass a difficult procedure to be allowed to go abroad. It's been hard for all; most are living abroad now. But of course, badly wanting to come back home.
5. What are your future plans? Are you planning to be a part of other business as well?
I am working part time as an expedition staff. I would be rather cool to own a cruise/expedition company.
6. What upgrades, do you think can pull women to pursue sailing as a career.
Support from the society and more welcoming atmosphere onboard
7. Apart from sailing, what do you like do?
I like drawing and water sports.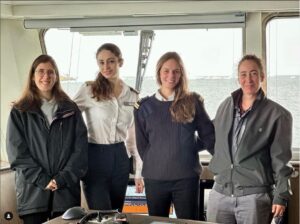 8. How is your experience till now in sailing?
So far it has brought me joy and led to wonderful places.
9. What problems women sailors are facing these days?
I think the greatest challenge is arranging personal life.
10.What do you do when you are not working or sailing?
Traveling mostly, and working out
11.How is your daily schedule at ship?
Bridge watches and safety equipment maintenance
12.Any major change you want in the shipping world?
Shorter contracts of course 🙂
13.What do you think is lacking in the new sailors?
I think that newer generation lacks discipline, however the older one lacks flexibility and adaptability to technology. It's a generational conflict.
14.Your favorite, tourist destination, Recipe, Actor/Actress, car. Who is your role model?
Every place has something special, so it's difficult to say. Role models are all those who persuaded their goals.
15.Last Question- what do you think about marinersgalaxy.com?
Quite interesting news, education and stories portal – I would like to wish you more popularity in the future.
Note: All views expressed in this article are totally personal and marinersgalaxy.com is just a platform to share this.