February, 2018 I boarded the ship. Standing 13 storey tall and 200 meters long, this mighty ship was going to be my home for the next 3months. I was apprehensive about getting sea sick, food and boredom. But trust me; those 3months were the best months of my life! There's something about the water that makes me feel free – away from the city traffic, away from pollution and most importantly I was with my sailor. Something that is very occasional is our queen lives.

Starting of My Journey
I boarded from UK. Went onto visit Germany, Belgium, Spain, South Africa, Australia, Korea, Japan and Singapore. I saw new places and ate new food. But the best part was that I could see what my husband actually does! Before the wedding his job role and job profile were a blur. But this was something extraordinary. The weekly drills and port duties were something new to me. I mean I've never seen him take control of a lifeboat or rescue boat. What he was doing felt so heroic to me? I could finally see and experience my sailor's everyday routine and loved every bit of it.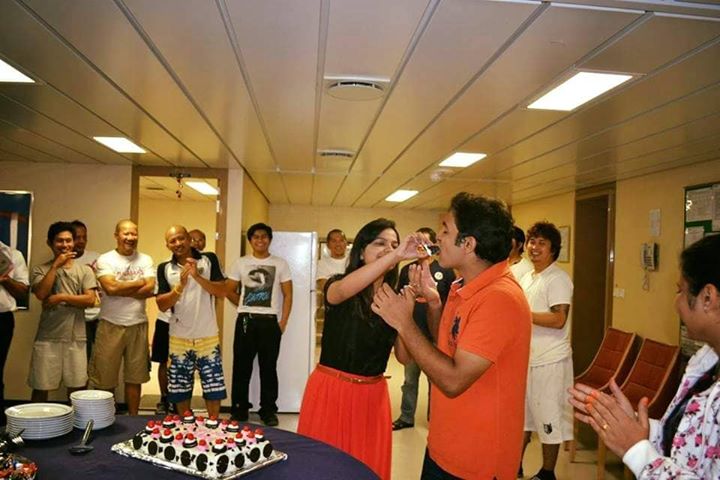 We encountered a storm after leaving UK. The ship was rolling and pitching like there is no tomorrow. The furniture went from left to right and vice-versa along with the waves. It was then I learnt that furniture could be secured to the walls of the room! It was during this time I got a little seasick. However I went onto to see some of the most beautiful sunsets and sunrise any human has ever seen! It was stars and planets. I saw flying fish, dolphins, whales and sea lions. All these new experiences and sights overshadowed the few days of sea storm that we witnessed. Everyone on board was so warm and friendly. We had a mix of filipino and Indian crew. There were 3 supernumeraries onboard. 2 more wives were there along with me, coincidently, which made passing time a little easier. 
While we sailed from South Africa to Australia we had a good 10-12 days time of sailing which called for a party. We also had the equator crossing ceremony which was beyond hilarious. A few sailors dressed as random characters and performed the funniest of ceremonies. We had a barbeque that evening and swam in the pool filled with the Indian Ocean waters. The water was so salty yet so clear. It almost felt like I got a full body spa the next day.  Onboard, I had the opportunity to cook. I made my sailors favorite "gobi ke parathe" (cauliflower stuffed tortillas) , Indian savory called "pani puri". Having a wife onboard is not only beneficial to her sailor but also to the crew onboard. Having family onboard creates a totally different atmosphere. The parties become livelier. There's food made that tastes like home and the sailors also have someone to talk to when they miss their own homes.
 Apart from the travelling and the experience of travelling on ship there is much more to it. This is one opportunity where you can focus on YOURSELF. I started abstract drawing and working out in the gym. I used to go for evening walks. I could sit by the railing and watch the water for hours together. "Pin Drop Silence" had a new meaning to it. I rejuvenated and concentrated on my health. While I was focusing on making the best use of this time, my husband found a new way to get his chores such as laundry also done (obviously! by me!).

He got a break from his one chore that bores him the most by teaching me how to operate the washer. Being together for those 3 months brought us closer as a couple and we created memories of a lifetime! Both our birthdays fell onboard and we had celebrations with the entire crew. Everyone had become like a big fat joint Indian family. 3 months went by in no time and soon it was time to say a heart wrenching goodbye to everything and everyone.
To the queens who are thinking of, or planning to sail with your sailors and have second thoughts about it…..take it from me. You will not repent this! Sailing with your sailor is one of the most memorable things you'll do in your entire lifetime. Take a chance . After all , the ocean is your husband's second home.

---
I'm Arunima. I've been married to my sailor for almost 4 years now. I'm currently working as an HR recruiter. I absolutely love travelling and trying new food. I also love to cook but that's only when I'm in the mood to do so. I plan to quit soon and start globe trotting!