Get to know about simple words of Philippines language which you as a sailor should know. Philippines are among the major contributor of the maritime workforce in the world. The islands nation has a large portion of people working for the shipping.
This is the reason why you will get Filipino seafarers around the world on every ship. They are highly celebrative and joyful guys and friendly though. If you find one, you are sure to have a great time onboard. So here are some of the simple words that you might want to learn.
Simple Filipino Words That You Should Know
Here are some of the very simple word already we covered:
1)    Ang lahat ng mga Best
Means all the best. You can use this word when somebody is signing off from the ship.
2)    Malasa
Means tasty.
3)   Mabuti
This means good. Whenever you have to say good, say mabuti.
4)   Pinagsisisihan 
This means sorry. A little longer, but if you try, then it is the easiest one.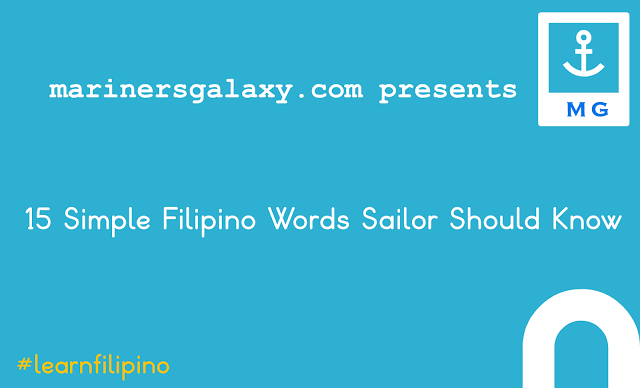 5)   Iyon
Means 'that'. When you want to quote somebody, then you might want to use 'Iyon'. Like Iyon Boy.
6)   Hindi
Means 'NO'. Although Hindi is a language spoken by Indian people. But looks like they have something common between.
7)   OO 
Used for 'yes'. These are double O, so it should extend a little.
8)   Gawin ito
Means 'Do It'. This word might come handy when you need to instruct some word.
9)   Loko
Means 'Crazy'. Like mad boy or girl.
10)          Problema
Used for the word Problem.
11)           Magaling
You can use this word for 'Okay'.
12)           Mabuting Gawa
Means good work. Use this to say when somebody does something good for you.
13)           Maraming Salamat
Can be used for saying 'Thank You'.
14)           Ang iyong Pangalan
Means 'Your Name'. When you are new to the ship, this might come handy.
15)           Napakarikit
Means gorgeous. Used wherever you like.
The final and the important  one.
16)           Mahal kita 
Means 'I Love You'. Used it flaunt your different language skills.
This was all from this article. Hope you enjoyed reading this. Suggestions are welcomed. Hope you enjoyed reading Simple Filipino Words That You Should Know