It's been 13 long years since we've known each other but little did we know back then that ours is going to be a story of destined love and togetherness. He's been my friend for the longest possible time, right from school days, and strangely we never dated each other. We have shared a lot with each other in these 13 years, almost everything, as friends. I used to call him this wacky crazy friend of mine, who was always so much fun to talk to, so positive, that it was never a dull moment with him. I had never in my wildest dreams even imagined back then, that I am going to fall in love with him so hopelessly! But I have, and this is the most beautiful phase of my life, the transition from him being my best friend to him being my soul mate. It's amazing, that turning point, when you realize that someone who's been your friend for the longest time, is the ONE, with whom you're going to spend the rest of your life with. I can't be happier! It's magical, and right now I am in short of words to explain what I feel.
Being friends to Being Soul Mates
So, we know each other since high school, studied two years together and then moved to different cities. But we always kept in touch. We used to talk for may be 2-3 times a year and be aware of each other's existence until 2015, when we really hit off talking almost every day! It's funny, because I was looking at settling down, meeting guys and so he wanted to fix me up with one of his friends and that primarily got us talking. Nothing really worked out between me and his friend, but it did change our equation and made us even better friends! So, we started talking day-in and day-out, sharing every small details of our lives with each other.
Now I know, it was a great deal for him, because I was the only girl he shared so much with. Guess neither of us realized then that we were falling for each other. There's not a moment as such, because the line between we being the best of friends to we starting to like each other is so blurred. But the kind of bond we developed was so amazing that it was difficult to move past it. Our friends used to tell us, but we kept denying, saying we're just friends! I still remember when he was in Australia, my dad surprisingly told me that we should think about each other. I now know, that his parents said the exact same thing!
It was never a "said" thing between us, it was completely unspoken, and I guess, we both knew but neither of us never really admitted it! He is into Merchant Navy and if you know, it's a profession, where it's really difficult to keep in touch when you're sailing. There was not a single day I can remember when he did not mail me from the ship. Such was our bond. However, towards the end of 2015, when I really started feeling the thing, that he's the one, I had these sometimes subtle and sometimes sly ways of letting him know!
If you know Parth, you'd know how much he plans things in life and strictly goes by the plan!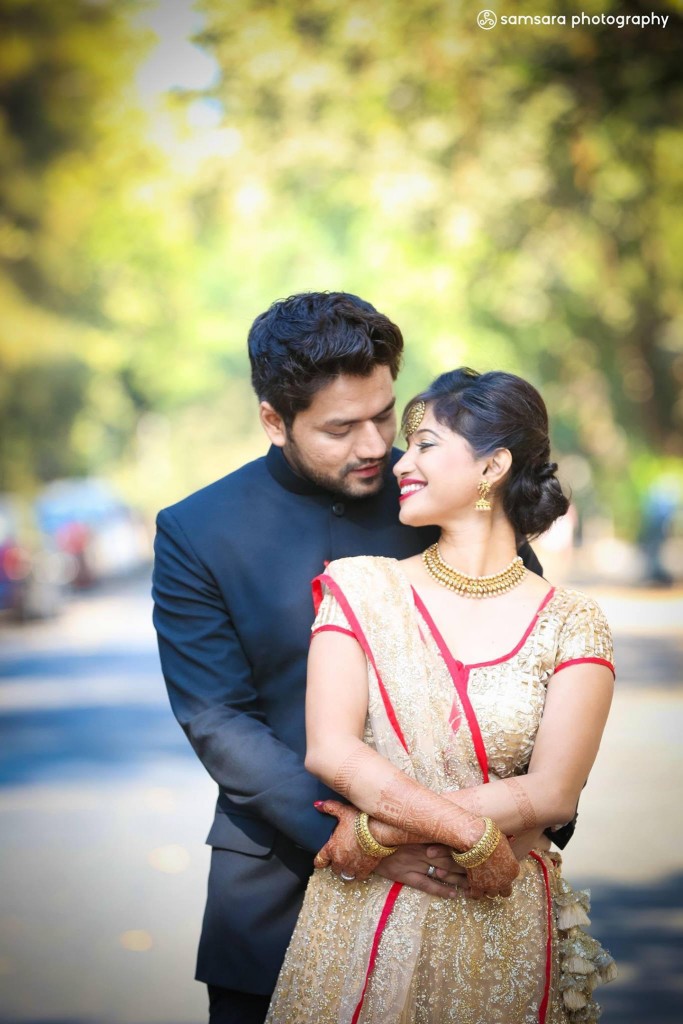 He had absolutely no intentions of settling down anytime in the next two years!  So, we parted ways, mutually, and stopped talking, because we really needed to move on and get a closure. At that moment, I was so pissed off, I decided, show me a guy, if I like, I'll get married to him. But I guess, just 1-2 weeks of distance did the trick! Today I know, that's when he realized "fuck the plan, she's all I want!" – The pang of realization. For him to decide something out of his plan, was a very big thing! We still fight over, as to who really made the first move, because we never said it to each other, it was effortlessly understood.
As they say, that LOVE hits you when you expect it the least, we can't agree more. When people say, it took you guys 13 years to realize you're the one for each other, it is surprising. But I am glad it happened this way, I am glad we started talking to each other when we were lot more mature in our heads and had a better understanding of life. I feel it's a story of two vibes that were meant to cross paths! And suddenly everything has just fallen into place!
This is the story of sailor queen 'Priyam Prasad'. She is from Mumbai, India and work as a Senior Consultant with a Multinational Company.
If you have something to ask her, please comment below. If you also want to share your story, mail us at contact@marinersgalaxy.com