Get to know about Maine Maritime Academy Alumni, Fees for the courses, how to apply for this college, its acceptance rate and contact details for it.
Maine Maritime Academy is a nautical training institution. The academy is located in Castine in Hancock County, Maine, USA. It was established in March 21, 1941 by the 90th Maine's governmental body. William J. Brennan is the president of Maine Maritime Academy. It is a public college with approximate of 900 undergraduate students. The Academy offers two undergraduate degrees and sixteen academic majors in maritime related fields. Students prepare for careers as officers in U.S. Merchant Marine and the U.S. armed forces.
Image Courtesy:Maine Maritime Academy
Read this interesting Article: 
How much you will earn at sea?
Maine Maritime Academy is second out of six maritime training colleges in US which fields a Navy Reserve Officers Training Corps (NROTC) unit. The college is affiliated by the New England Association of School and Colleges. The job-placement rate for MMA graduates is in excess of 90 percent within 90 day of graduation. The success of MMA's graduates has resulted in worldwide reputation for excellence and reliability knowledge related to maritime.
Courses offered by Maine Maritime Academy
Undergraduate programs in following fields –
·        Arts and sciences
·        Engineering
·        International Business and Logistics
·        Marine Transportation
·        Ocean Studies
·        Interdisciplinary Studies
·        Minors
Maine Maritime Academy Acceptance Rate and Ranking
Maine Maritime Academy has been ranked no.1 in category of Best Public College in Money magazine which was released in August, 2014. Its determination, retention and graduation rate are not only good but are above the national average.
 See this interesting Video on MMA
As far as the acceptance is considered, on an average it is 64%, and fluctuates every year, but not much from it. So, those who are planning to get into it have pretty decent chance of getting admission in to this one.
MMA Bookstore
MMA is known for their best online bookstore. Everything from book to apparels that are needed for the college you can buy them from here. You can even buy electronic gadgets from this shop. If you are planning to buy something from the book store, then here is the link:
www.bkstr.mainemaritimestore/homecom/
Maine Maritime Academy Sports
When it comes to sports, MMA has a quite talent to show. They have separate portal for sports information. Soccer, Volleyball, basketball etc are some of the regular sports here. Cross country races are also organized from time to time.
MMA Alumni
MMA has a large base of alumni who have passed out from this prestigious college. This becomes quite useful to the students who are studying right now and wants to get real insights about the industry. If you want to contact, college is having their Alumni group where you can interact with the seniors:
MMA Alumni Association
Castine, ME 04420
207-326-2337
alumni@mma.edu
How to apply for Maine Maritime Academy?
Interested students have to choose from different methods of application as per on applicant status and fill the respective forms. Categories are:
·        First time Freshman Student
·        Home-Schooled Student
·        Transfer Student
·        Veteran
·        International student
·        Graduate School Student
Facilities provided
Basic facilities like availability of living in hostel of campus are there. Students living in campus are safe all the time. Dinning services are good as well.  All time health service is available which ensures the health of each and every student in campus. There are number of activities in college which every student can take part in.
Fees structure of Maine Maritime Academy
Maine maritime academy Tuition fee per year for this academy
is as follows:
·        In-state: $9,080
·        Out-of-state: $19,900
MMA Scholarships
Students that have recently graduated from high school and had applied for early action are eligible for the scholarship. Merit awards as scholarship is competition based and is provided to those who manage to get a required academic performance. So, if you are planning to get one, you better start working towards that. Merit awards given are around $5000-$6000 per year.
Contact Details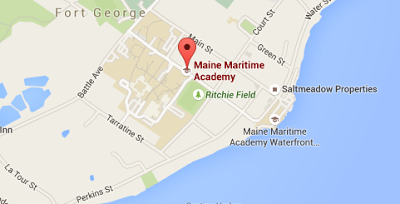 Image Courtesy: Google Maps
Contact details for the academy
are given below:
Address- Pleasant Street
Castine, Maine 04420-0001
United States
Phone- +1 (207) 326-4311
Email- socialmedia@mma.edu,
admissions@mma.edu
So this was all from Maine Maritime Academy Article.