Know about how to join merchant navy as rating for both deck or engine department. Also know more about what a ratings does on ship and how to get promotion as well.
Merchant Navy as we all know is a profession with all sorts of opportunities and diversity to offer. With 90% of the world trade being carried through seas, it becomes the biggest industry in the world.
Join Merchant Navy as Rating
Join Merchant Navy as Deck Rating
Since we know we have
two departments in ship
, One is deck and other is engine. Here will be discussing about the deck ratings.
Deck ratings are also called with followings names like Bosun, Painter, Able Seaman (AB), ordinary Seaman etc. There are on the ship to help and work with merchant navy deck officers like
3rd officer
 or chief officer etc.
For joining as deck rating, first you have to go through an estimated period of training before you can join merchant navy. This includes your basic training as well like STCW courses. The main aim is to make you familiarize with the ship before putting you to one.
Every country has its own system of eligibility for ratings like you should be high school, or some diploma etc. So, basically you need to have only basic education before you can join as deck rating.
Note: If you are planning to join as rating and are from India. A course named as General Purpose ratings is there. The duration of the course is 6 months.
Join Merchant Navy as Engine Rating
Those who are looking towards working in technical aspects of the ship like repairing machinery, fabrication of tool and material etc, then they can join as engine rating.
For this you need to have basic technical education like diploma in mechanical fieldetc. After this you will go through 6 months course which is as per the STCW convention. This is mandatory now. You will be assisting Engine Officers.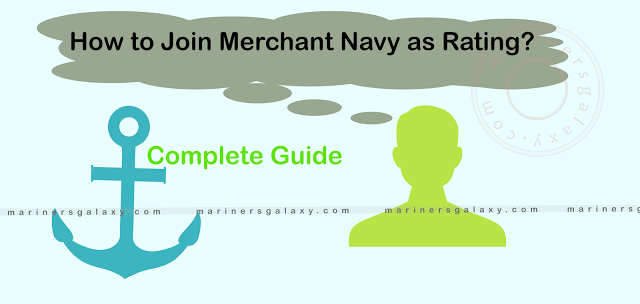 Minimum grades needed for joining as ratings are different, but are not high. Like for united kingdom they wants 3 Scottish grades while in India you need to have 50% in diploma etc. But after that, 6 months on land training is mandatory, and then you are approved rating to join the ship.
Engine ratings are also called as fitters, motorman, oiler, wiper etc.
Work of Ratings on Ship
Ratings are to give extra hands to the officers out there. For example in navigational watch, an officer and ratings will be present on the bridge. While in engine,during repair and fabrication, officers will instruct ratings to do work as per his or her needs.
Salary of a Rating in Merchant Navy
A rating can easily ear between 800$-1500$ per month depending on the seniority they have. This payment is much higher then they will get on the land. Plus good quality food and accommodation is also there. You might be paid in other currency as well, if you are working for some companies who wish to pay in their desired currency.
Can I Become Merchant Officer after Serving as Rating
Yes, why not. Although you have to sail more to complete the approved sailing time, but you are eligible for giving the
certificate of competency exams
all over the world. While some countries have restrictions over the ratings giving officers exams, but white listed countries like Singapore, United Kingdom have proper procedure for it. Roughly around you need 36 months of sailing period, before you can be eligible for merchant navy officer exams. There are many people who joined merchant navy as ratings, but now are sailing as successful
officers at sea
.
Facilities on Ship
You are given free food, accommodation, health care and other necessary needs. Your transportation cost from ships to home and back, will be paid by company.
How long I Have to Work On Sea
Different companies have different policies for this but general trend is that you will be working in contracts, which have duration of 6 to 10 months, as per the company. Generally ratings spend 9 months at sea, and then 3 months at home. But some are there who spend on 6 months at sea, 3 months at home and then again back to ship.
Hours of Working On Ship
You will work for around 10-12 hours a day. It might increase, if there is hectic schedule on ship like
bunkering
, major overhauls, long port stay, and continuous cargo discharge. But generally you will work for 10 hours a day with 1 or 2 days leave in a week, as per the company policy. You will be paid, for overtime also.
So this was all from How to Join Merchant Navy as Rating-Complete guide.