This is a short interview with an experienced captain Rajesh Todiwan . Let's read what he has to answer about that question that we asked.
Can you please tell us a little bit about yourself?
I would describe myself as a simple guy who is passionate about everything that he takes up. I love travel, adventure and nature. When it comes to professionalism, I'd describe myself as a hands-on practical mariner.
How did you get into sailing?
I was into sports all through my school life. Was the captain of the college cricket and hockey teams. When I graduated from university completing B.Sc. Physics, I had some career options such as the defence services and engineering. Then I heard about the Merchant Navy Captain's salary. It might sound a bit funny but honestly it was the money that attracted me. I weighed the pros and cons of all options available, for others it was at least 3 years of study and then I would start earning but Merchant Navy provided instant earning and that too in dollars. Of course adventure too added to the career choice.
How long have you been sailing?
It's my silver jubilee year this year. Completing 25 calendar years of sailing on 10th April 2017. Never thought it would be this long but I guess it's the adventure and Adrenalin rush that has kept me attracted to sailing. I take contracts on my own terms. That much luxury one can enjoy after 25 years of being in one of the most demanding careers I guess!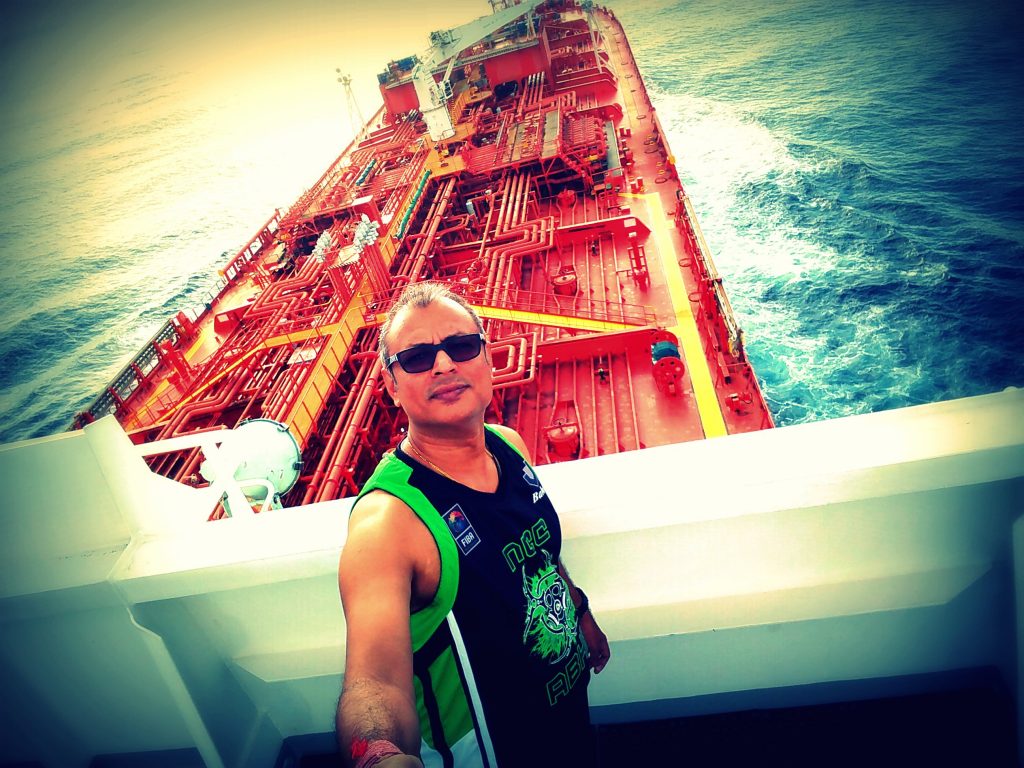 What are your future plans? Are you planning to be a part of other business as well?
Future will always involve things that are close to my heart be it on the personal or the professional front. I always wanted to do something of my own. I have traveled a lot and have a bit of understanding of what people need on- the- go. I love good food too, though not a finicky eater, good food attracts me. I have started an academy called Spectrum Academy that deals with all these aspects and training for hospitality. I have partners who are from the hospitality industry.
What upgrades, do you think can pull more young lads to pursue sailing as a career?
Good work environment, competent workforce and options for leisure such as being connected to the outside world through wifi and onboard recreational facilities.
Apart from sailing, what do you like do?
Ans: I love to travel, for leisure or adventure.
How is your experience till now in sailing?
It has been challenging but fun all along; that has kept me going for 25 years and more now.
What do you do in order to keep up with latest tools and technologies?
I read up, talk to my friends and colleagues from the industry and research on the latest available tools and technologies. Now we have the best of equipments and technology available at our disposal that is continuously improving.
What problems captains are facing these days?
This is like a Pandora's box, since you have asked the question let me answer that. Firstly the staff on board especially the new recruits to have the right skill sets, the manpower on board is minimal for which one needs the best employees not just competent on paperwork but also on the actual practical work. Secondly, empowerment for the master onboard. Some companies have too much of interference from the office that makes operations onboard lax.
10.What do you do when you are not working or sailing?
I am one of the boys with my two sons! We do many activities together.
11.How is your daily schedule at ship?
A master has to be available 24X7 while onoard. The official working hours for me are 0800 Hrs. to 1800 Hrs.
12.Any major change you want in the shipping world?
I think the sign off to be on time as it's not just the physical work but it involves a great amount of mental pressures as well for the sailor. Timely sign off reduces the mental fatigue. Another aspect that I'd like to focus here is on the competencies of the sailors, one needs to constantly upgrade oneself. Theory is important but practical knowledge is life saving and saves other resources too!
13.What do you think is lacking in the new sailors?
Commitment, honesty and loyalty towards the job and the organization are the qualities that are needed in the new sailors. They don't lack them but are diluted. I'd always emphasize on these very qualities as they are extremely important not just in our industry but for every professional no matter where he works!
14.Your favorite, tourist destination, Recipe, Actor/Actress, car. Who is your role model?
My role model: Capt. Prashant Mirchandani, who was my tanker Chief Officer as a cadet. Have learnt a lot from him. He'll always be my professional role model.
Tourist destination:  Himanchal Pradesh in India
Recipe: Barbecue
Actor/ Actress: Denzil Washington/  Meg Ryan
Car: Mahindra Scorpio and Thar 4WD
15.Last Question- what do you think about marinersgalaxy.com?
Ans: It's a great portal. Has good, informative content for the marine world. The other articles are quite interesting too. Best wishes to marinersgalaxy.com
Note: All views expressed are strictly personal.