Here I am, at my home in Kolkata (West Bengal, India).Writing back, remembering things are not so easy. But I can actually remember each and everything that happened with me during this trip in the year 2017. This is the same year I got married to a seafarer. I just knew he is in merchant navy and earns handsomely, being brutally honest. My husband is a master (a young one must say) and thus I became a Sea Queen.
So as you assumed this story also starts from me about to join onboard ,and it starts from 19th Dec, 2017 when I was in Mumbai completing my joining formalities with his company. They did my medical, I signed an indemnity bond with them and then they handed over the tickets to Las Palmas, Canary Island. What should I say about the flight tickets, they were the worst? 1. I am travelling alone on international trip 2. Trust me I had never heard of this place before, which makes me more scared. But I was ready to face the situation as it comes #beingBrave.
Now I was at Mumbai International Airport on 21st Dec,2017 with my two bag gages-the stay onboard was going to be long and I am a girl. I had an early morning Flight to Doha, connecting flight to Barcelona and the last flight to Canary Islands. My Doha flight took off late, eating into the short connectivity time there and the rest can be assumed. But aahh! Luckily, I didn't miss my connecting flight.
Then I spent almost 7 hrs at Barcelona, being an unknown airport wasn't easy but as I was looking forward to be onboard, killed that time as well.
Then here I was at the hotel a few hours later, waiting for the cab driver to pick up us from hotel to the jetty. Little did I know that there is one more transfer remaining, from a boat to the vessel!! This boat also had the provision that the ship or rather the master had ordered. So along with the provision they choose to transfer me as well.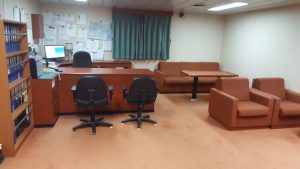 Choppy sea and the boat was going up and down or to side to side. An hour later I did see a giant watercraft in front of me and I had no clue that this was the ship where my Master was waiting for me. I had to turn my face from left to right to have a full look of the ship, also my eyes were looking for him around but couldn't find him and then suddenly I hear his voice, he was standing at the gangway which was like a ladder to go up on the vessel. They made some argument as to I should be taking the rope ladder and gangway wasn't safe for me as the sea was bad, but my thoughts were if I had to take the rope ladder, I am dead then and there, I was petrified seeing it, then my husband asked me to take the gangway to go up, finally I manage to step up onto the gangway.
Trust me it wasn't easy at all, this was absolutely new to me and second the sea was quite bad. So I was up at the deck, greetings received from everyone, suddenly someone asked my husband, "sir bag?" and then I realized that my bag were missing and I hadn't received the same at the airport, and then upon investigation at airport I came to know it was at Doha with the airlines, between this transfer from boat to ship I had actually forgot about it. Shit! No bag, no clothes, no port for next one week and I am the only female onboard.