Purifier problems are discussed about the purifiers, most common problems and how we can rectify them easily. Troubleshooting is a major part of a marine engineer work place. And if done in a systematic and ideal approach, it can save lot of hard work and also time. In this article have picked six common problems that are very common, yet consumes most of the time when it comes to solve them. So, let see which those ones are.
Bowl Speed Low

Feed Pressure Low

Bowl not closing or leaking

High Water Content

Low Back Pressure

Oil Temperature High
Purifier Problems: Common
These common problems we will discuss and also the solutions to the same.
Bowl Speed Low
Reasons for the bowl speed low or purifier not getting the desired RPM are:
Belt is slipping (if belt drive)

Worn out gear system (if gear system)

Bearing damaged

Motor is not working fine

Frequency is less

Coupling pads or centrifugal clutch is worn out.
Actions: Spray the belt dresser and get the belt cleaned. You can use a rag. Be sure that breaker is off as rotating parts can do lot of injury. Same goes with gear and coupling pads. Check them and replace. Bearing if damaged can be seen with metal particles in oil sump.
Feed Pressure Low
This is among the common alarms, and the reasons are
Feed pump not working up to the mark

Heater is fouled

Filter for pump is clogged
Actions: Check the pump pressure and inlet pressure at the purifier. If pressure at pump is all right and pressure at purifier is low, that means heater is clogged.
Bowl Not Closing or Leaking
Following reasons can be there for such problem
Water Pressure is less

Sealing o-ring or gasket is damaged or worn out

Less RPM of purifier

Slide Bowl not working properly.
Actions: Before opening up the purifier, it is recommended to check the water supply pressure and RPM of the purifier.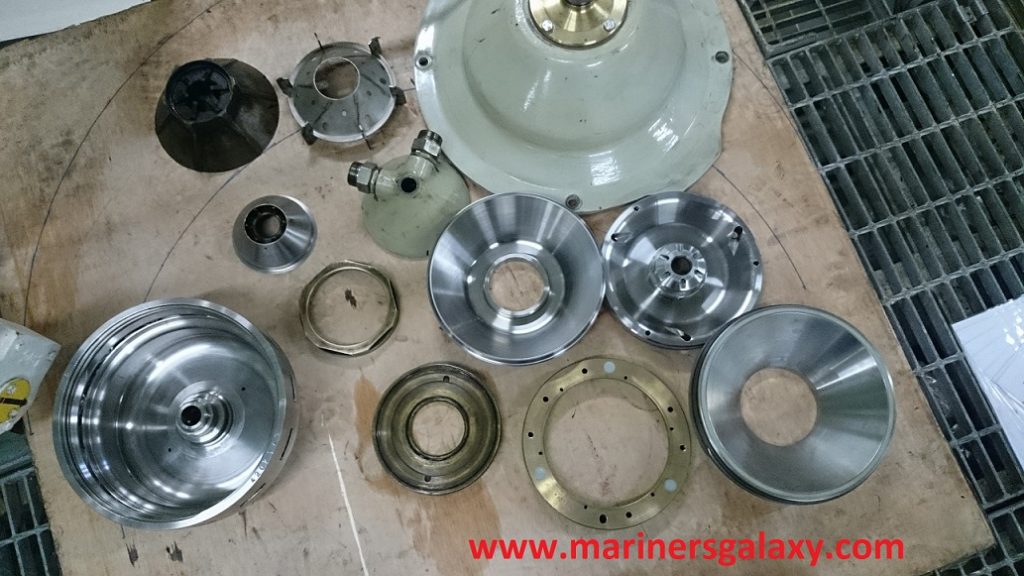 High Water Content
Reasons for such problem are mentioned below:
Leaking steam heating coil in settling tank or lube oil cooler is leaking

Heater for oil is leaking

The gravity disc or pairing tube is not working properly.
Actions: Check the heater for leakage. Also take the sample after the heater or settling tank and measure the water content in that.
Low Back Pressure
Following things can be the reason of such problem:
Pump is not supplying oil with enough pressure

Regulating valve is not adjusted properly

Air for the recirculation valve is not properly given, hence all the oil re-circulates back.

Closing water for bowl is not enough and leaking

Strainer of the supply pump is clocked

Bowl is leaking

Sensor is defective.
Actions: Above reasons should be checked for proper function. Check the strainer of the supply pump, especially if the purifier is used for HFO separation. They tend to get dirty very fast.
Adjust the regulation valve once you start the purifier with clean filter. Mark the position.
Also make sure that the operating water pressure is good enough.
Oil Temperature is not correct-High or Low
Reasons can be following for same
Supplied oil is too cold

Heater is clogged

Temperature controller valve malfunctioned

Sensor for temperature is wrong

Recirculation valve malfunction
Actions: Heater should be checked for the proper working and also check if the temperature controller valve reacts properly as per the need. Also the oil fed to the supply pump, should be of correct temperature grade.
So these were the common problems that are associated with the purifier and how they can be rectified easily. If you have any problem and need the solution for the same, please feel free to comment below.