Get to know about INS Vikrant Indigenous Aircraft Carrier museum, history, construction, its length and latest news.
Indian Navel Ship VIKRANT is an aircraft carrier that is built in India for a very first time. It is also the first Vikrant-class aircraft carrier which has been build for the Indian Navy by Cochin Shipyard. Vikrant-class is nothing but a class of two aircraft carriers that are built for the Indian Navy. This ship has been given a motto that called 'Jayema Sam Yudhi Sprdhah' which simply means "I defeat those who fight with me".
INS Vikrant Aircraft Carrier Construction History
India's first ever aircraft carrier was ready with its design in year 1999 which was planned by the Directorate of Naval design of the India Navy. In February 2009, laying the keel took place by the Defense Minister A.K. Antony at the Cochin shipyard. Keel laid is basically a formal indication to recognize the beginning of construction of a ship. On 29 of December in 2011 the aircraft carrier was made out of its dry dock to float. INS Vikrant was then launched in year 2013. In year 2014, the cost of the ship is dramatically rose to Rs.19341 crore (US$3.1 billion).
The ship has shown a great modernity in its making, which includes joining of 874 block for the outer shell. By the time the keel was laid for her, 423 blocks that were weighing over 8,000 tons had been completed. Initially it was planned to be launch in 2010, when some 20,000 tones would be displaced. But later it was decided that when all the major mechanism which includes under water system would be checked and verified then only the ship will be launched that is after a year. In late 2012, reportedly, the project had to face disruption due to the delay in delivery of the main parts including gearboxes for the carrier.
Image Courtesy: Indian Navy
INS Vikrant Aircraft Carrier Specifications
As the name 'Vikrant' itself suggests it always steps beyond. It is 860 ft long and 200 ft wide, and is capable of transferring 40,000 long tons, featuring a Short Take-Off But Arrested Recovery (STOBAR) configuration. Aircraft such as MiG-29K can also be operated from INS Vikrant as the deck is designed in that manner. This aircraft carrier is expected to carry up to thirty aircrafts which may include up to 30 fixed-wing aircraft, primarily the Mikoyan and the naval variant of the HAL Tejas Mark 2, in addition to these it can also carry 10 Westland Sea King helicopters.
INS Aircraft Carrier Vikrant Moto
INS Vikrant will surely stand on its motto "I defeat those who fight with me". It is also called with other name as Vikrant 2.
 INS Vikrant Aircraft Carrier Video
Below is the latest video of launching of INS Vikrant.
Making of INS Vikrant Aircraft Carrier
In construction of INS Vikrant, there was involvement of a large number of public and private firms. Constructors have faced many difficulties to build this aircraft carrier. One of the major problems was the supply of AB/A grade steel from Russia to India which was resolved by Defense Metallurgical Research Laboratory (DMRL) and Steel Authority of India Limited (SAIL). They facilitate the country by creating industries for manufacturing of steel in India itself. According to a report, three kind of steels are used in the ship one for the hull others for flight deck and floor compartments.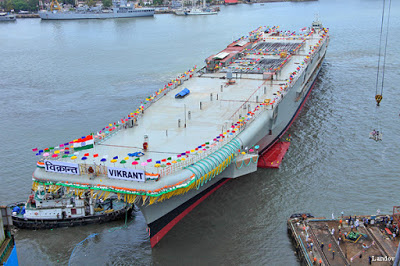 Image Courtesy: Indian Navy
There is no doubt in saying that almost whole nation has contributed in the manufacture of INS Vikrant. Since, it is manufactured in Bhilai Steel Plant and Rourkela Steel Plant so it is the first ship in the Indian Navy which is built using domestically-produced steel. Larsen and Toubro, Mumbai manufactured some parts of aircraft like the main switch board, steering gear and water tight hatches. Kirloskar Group's plants, Pune also manufactured the high-capacity air conditioning and refrigeration systems. Bharat Heavy Electricals Limited (BHEL) supplied the Integrated Platform Management System (IPMS), being installed by Avio, an Italian company. The gear and the electrical cables are provided by the Nicco Industries.
INS Vikrant Latest News
In July 2013, Defence Minister of India A.K. Antony announced that Vikrant would be launched on August 12 at the Cochin Shipyard. The ship was launched by his wife, Elizabeth Antony. Extensive sea trials are expected to begin in 2016 and the ship will be inducted into the Navy by late 2018. Recently the vessel was undocked at the Cochin yard for trials.