Well Maersk has a very unique way of hiring people and have adopted a very standard procedure for it. LI and PI are the two important exams that they conducted while hiring a person in their organization. We will deeply go through that.
   Maersk PI and LI Test Questions
   Also Read: 
Maersk Interview Questions
But first thing first, you need to register yourself at the Maersk website, that includes your name entering and other things and lastly upload of resume. Now coming to the main part, that is these two exams.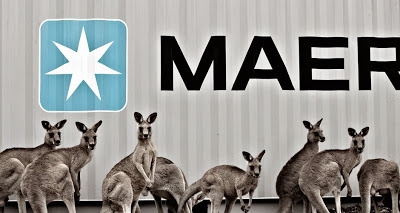 PI is character based test, which contains two pages. These two pages contains around 30-40 (Each), all describing some or other quality in Human being like Honesty, punctual. The first page is 'What things Expected by others from you'. Which means that, all the words that are given their, are the things that are expected by other in you. Good vocabulary will always help you! There is no time limit to fill this form, so keep calmness and fill the form. It may happen that you just mark few words in the first page. Here some of the sample words.
Simple
Audacious
Gullible
Supportive
Conservative
Leader
Fashionable
Stylish
Now comes the 'Second Page'. The second page have 'What Qualities your have'. And there will another 30-40 words to describe that. Here naturally you will be ticking more words than the first page. That's it. You are finished with this test.
Now comes the LI test. LI is surely something that can give sleepless nights to you. Reason being that, you just have 12 minutes to complete 50 questions. Yes you read it right, 12 minutes for 50 questions. There is no trick in this paper to clear. All you need to do is correct as many questions. First target those questions that are known to you easily like smallest numbers, synonym or some sort of series.
Sample Questions:
1)     Which of these numbers is smallest among all?
a)     5/3          b)    2/3              c) 9/3            d) 5/4
2)     1, 1, 2, 4, 8……… What is the next number in this series?
A)    16           B)   20           C) 21)             D) 0
3)     The Opposite of word of dormant word is?
A)    Cunning              B) Clever          C) Active             D) Plentiful
4)     Questions 1: A and B are both red balls, C is White ball, Placed in two boxes
Question 2: C ball are present both boxes.
Conclusion
A)    A will be in both boxes
B)    A and B are not in any box
C)     C balls are in both boxes
D)    None of the Above
5)     See the pattern below:

Which options is correct.
So as you can see the questions are very general and are taken from a pool of questions. And hence there are very less chances of questions getting repeated. The only things needed are as many as questions correct and time check.