They always say that sailor life is a challenge and it's not at all easy being his wife. The time apart, lack of communication, wondering where he might be at this time, not able to take care of him when it's your duty are just the few of its cons. But a queen knows how to turn these cons into pros and enjoy life at its best. Let's quickly read my story.
The Beginning Of New Life-With My Sailor
My story revolves around the same fact and it began when I decided to get married to a sailor. Since none of my family background is from merchant navy  (Sailor) so it was a new concept for them as to what is it and how am I going to survive this separation. This was the risk I was willing to take to avoid the ordinary life of any other office goer. Despite of all the doubts, I married in 2013 and it truly changed my life, my personality, my horizons and my ventures. Marrying a sailor made me a Queen from my Daddy's little Princess who used to take counted steps and now she is roaming all around the World.
My first sail was very special as it was my first time that I was away from my family and friends for such a long time. I had only my sailor by my side and he had only me. Once on-board I realized that this place is so different from home. There is a limited space in terms of a cabin that you get fixed with just the bare minimum necessities of life but it opens up the doors to unlimited possibilities to be experienced if you are willing to.  The ship has no cable television on-board (which many girls might miss), no home cooked food, no luxury of market place anytime but it has the most important thing that you need for yourself: Time!!!
How My Time Went Away
My sailing experience started with continuous 15 days sail trans pacific during which for the first time I really saw the real untouched beauty of nature: the vast ocean changing colors with every ray of sun, sometimes so calm and sometimes so windy and wavy, the sunrises and the sunsets in ocean which are to die for, formation of different type of clouds, sea fauna, dolphins, whales flying fishes, looking and spotting them via binoculars.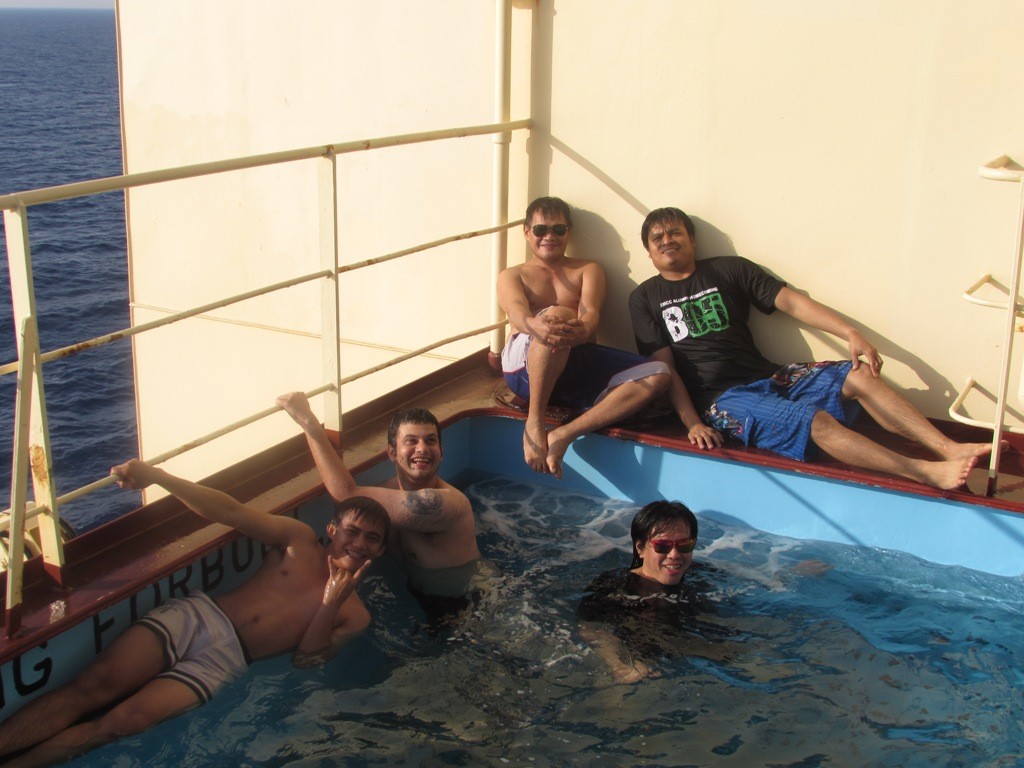 My other activities on bridge involved asking my husband hell lot of questions as to what is what, taking interest in what he is continuously doing on bridge roaming here and there, sometimes playing the role of his assistance and handling him stuff and shutting off watch alarms, captain coming up on bridge teaching how to take control of ship's wheel and in return telling endless stories about his sails and his adventures, having coffees together, tuning in to music with headphones or studying novels sitting outside in natural air condition.
Apart from all this stuff the ship is a huge collection of experiences. How can 23 people who have no relation whatsoever sit every day at the same table and can talk, laugh and enjoy just like a big family, watching movies together in the day room while emptying the slop chest of chocolate, chips, popcorns and coke, enjoying the sun and the lovely temperature of water in swimming pool, playing basketball on board, going gym together, playing bingo at barbecues.
These might sound as a very few things to do but to us sailors these small things make big differences.Baking cakes for the whole crew or sometimes cooking Indian food for everyone as they all miss home; clicking photos of everything, searching video libraries for unseen movies, looking up at the stars and wondering how many are they and naming all constellations are some of my personal favorite leisure time activities.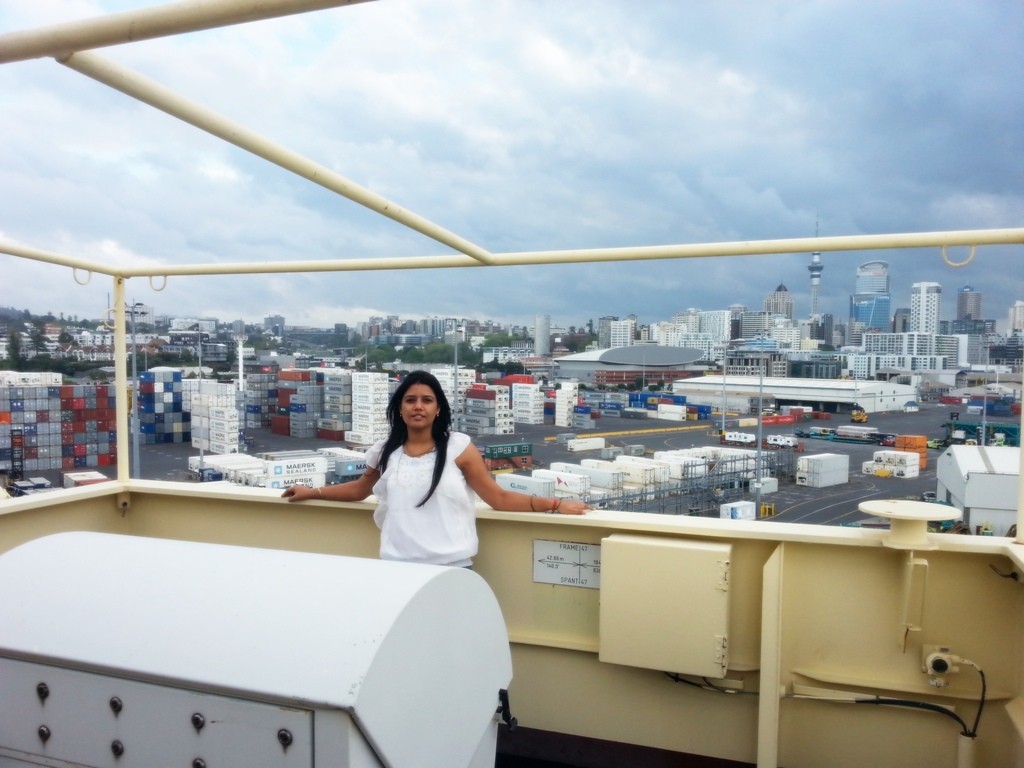 The first port we entered was Auckland, New Zealand which was the best gift the ship could ever have given to me as it aroused my inquisitiveness more to see the World. Forcing my husband to finish his job soon, we went out on shore leave and I saw why it is a big deal to keep foot on ground after you have sailed for about 15 days. The land seemed amazing and fresh. Since that time I have enjoyed numerous port stays, touched several country in almost every continent, crossed Panama and Suez Canal, crossed Equator (certified as a shell back), crossed the date line, skipped an entire day and also enjoyed a day twice.
The people on-board start becoming your other big family from different parts of the world. I am still friends with many people I met on board spread across the globe and the best part is that all you shared with them are some of the best memories of your life.  I have celebrated my birthdays, my anniversary, Christmas, New Year's Eve with all these strangers and still whenever I think of it, it just brings a smile on my face. The shore leaves around Xmas and New Year are a treat for the eyes as I saw the decorations with my own eyes what we always saw on television back home.
Final Words…..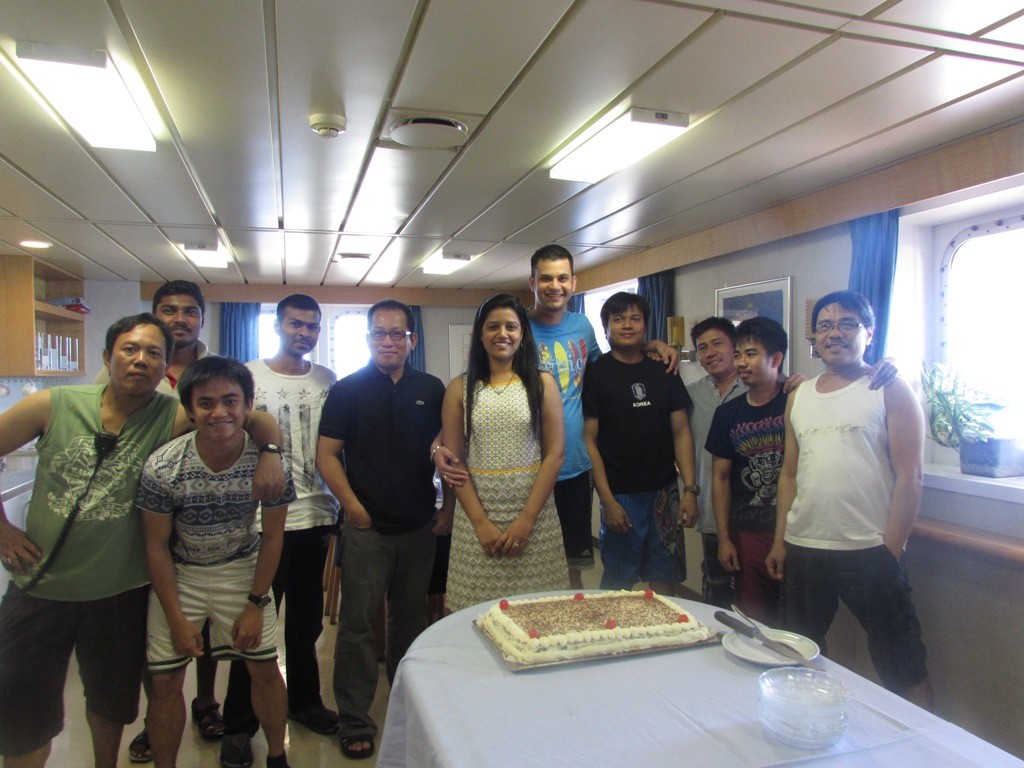 With time I realized that sailing is my passion and that's why may be God brought us together as we share the same interests. I witnessed my husband's promotion and my promotion from a small room to a bigger room. I feel so proud when he is tired onboard and I can be there to relax him, ask him how was his day or when at work he skip his meals I can make sure that he eats later on, laundering the clothes so that he can get some extra rest. Sailing brought us more closer to each other as we realized that we are each other's best halves. Making the sacrifice of my job and luxuries of home was the best decision I made as it made me close to what I really wanted. It is my honour to be a part of such life and I am really happy and proud to be a Queen and I wish for us that may this journey continues and every sail are just as special the first one.
Please share this article on facebook, as it really helps me to write more about sailor queens. Thanks.
This story is of Dr Vinita, who is a proud Queen of a Merchant Navy Officer. She hails from the most colorful and vibrant country in the world- India. She is a Doctor by profession. In the mean time she enjoys reading and writing. Hope you enjoyed reading her story. She would definitely love to answer all your doubts and queries, so comment below.