ULCC or Ultra Large Container Carriers are the new breed of ships that has taken the toll on the shipping market in a very short period of time. Let's read about these fascinating ships.
Ultra Large Container Ships
Let's read in brief, yet interesting information about these mega ships that are ever built. In short period of time when Maersk ordered ULCC kind of ships, it was evident that rules of the industry are going to be changed. A bigger ship is what going to be the next big thing in shipping. Soon after Maersk launched their 18000+ TEU capacity vessels, there was sudden spike in the order of such kind of vessels. Soon MSC, UASC, CMA CGM, China shipping also came up with this kind of container carrier Ship. Let's read about them.
Why? Benefit of Large Container Ships
Operating large container ships is fairly a good idea, when the volume matters.
Same number of crew (almost) can carry more cargo. Thus reducing the overall running cost.
Uses Slow steaming process-reducing the overall fuel consumption
More containers can be kept at sea, thus reducing the charges to pay when they are at ports.
More cargo can be taken in one go, thus improving the overall time required.
More tonnage with less fleet.
Dimensions and Capacity
All the ships of these kinds can carry up to 17000-19000 containers at one time.
Length- Can range from 395 meters to 400 meters
Wide- 55 to 60 meters.
These kinds of ships can roughly carry 17000 to 19000+ containers (20 foot), with more than 1000 reefer including them.
Propulsion
While Maersk went for 2 main engines on each ship generating 32 Megawatt each, MSC and other players went for single engine. The concept of two propellers or one, still debatable one, but whatever it is, they are still the massive ones.
Length of each blade of a propeller can range from 9 to 11 meters.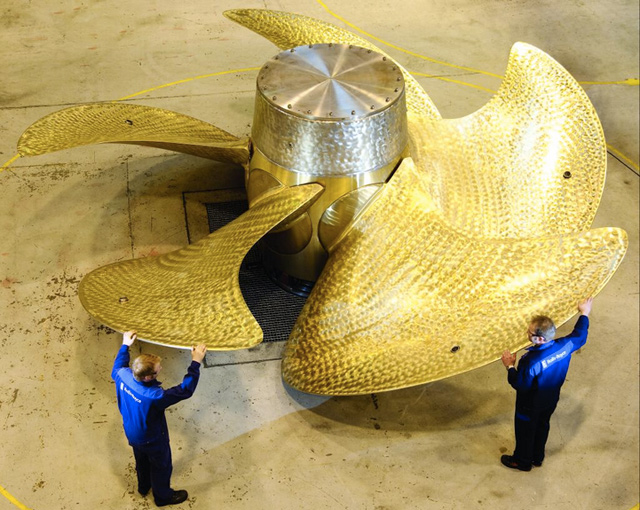 They can attain maximum speed of 21-24 knots.
Engines can vary from having 11 to 14 cylinders. 2 stroke engines.
Efficiency
These new kinds of vessels are designed such that they cut out the carbon emission by almost half. For example Maersk uses waste heat recovery systems in all the ULCC ships. In this the heat of the exhaust from the engine is sued to generate steam and thus running of turbines as well.
The shape and size o the ships are like that, it steers through water more efficiently and in a better way.
How much it cost
To build such kind of mammoth ships, you need to spend lot of money. It will cost around 120 to 140 million dollars to make one ships.
Accommodation
These kinds of ships have accommodation for 35 people at max. But usually 23-24 people are enough to run them. Swimming pool, cinema hall, gym, table tennis, recreating room-all there in the accommodation area.
Engine room is 150-200 meters away from the accommodation.