Want to know about Panama Canal like its history, what purpose its serves, where it is located and what importance it has on today times. Get to know about it here in complete details.
It is situated in Central America; this canal allows the water flow between Pacific Ocean and Atlantic Ocean. Its length is about 64km. Travelling through this canal also reduces the voyage by many kilometers and many days as it allows the vessels to bypass South America. The whole world's shipment in a large amount is done through the Panama Canal. Panama Canal consists of many artificial things throughout, there are lakes that are artificially created, channels filled with water which raises and lowers the ships to cross terrain of mountains of central area of Panama.
History of Panama Canal
In the early 16th century, Europeans have dreamed of about building canal that can allow a ship to travel across the Isthmus of Panama. Though Spanish kings considered that building a canal would be used to carry treasure from their colonies at South America back to Spain, but no such attempt was made. With the knowledge of machinery produced during the revolution of industries and attempts over years, led to the creation of such a project in the early 19th century.
See this video of how panama canal works
Panama Canal took ten years to build i.e. from 1904 to 1914; and is directed by Inter-Oceanic canal commission. The supplier of technical guidance was United States Army Corps of Engineers. This canal tackled major engineering challenges including hindering of a big river and digging of channel through the ridge of a mountain. Read this:
Read how Suez Canal Expansion is being done
 At that very time, the
Panama Canal was the most intricate, costlier and the largest project of this type that has ever been undertaken by the US. Government. This project has employed approximate of ten thousands of workers and the whole project priced about $350 million.
Purpose of Panama Canal
A number of ships, passengers, and cargo use to travel through Panama Canal every year. Overall 14,000 ships, 400,000 crew members, and about 300,000 passengers have traveled through the canal in the year 1995. A clear increase was observed in 1996, with per day average of 42 and total of 15000 ships travelled from one end to other end of the canal. Cargo vessels of wide range of variety and some specialized ships cross this canal every year.
This image shoes map of panama canal and how it shortened the Distance
Commonly passing ships are bulk carriers that carriers grain, ore, and liquids along with; automobile carriers; container ships; tankers; liquid gas carriers and also passenger liners. This canal is also used by many naval vessels, dredges, fishing boats, barges along with ocean going tugs. The canal also permits shipment of commercial goods such as automobile which saves time and money. Transportation the cargo through canal is done more promptly and quickly.
 Before the completion of the Canal, ships between ports in New York and San Francisco had to sail around Cape Horn that is the southernmost point of South America. It was about 12,000-mile long sail which used to take 67 days to complete.
Dimensions of this canal
The size of ships that can transit the Canal depends on the size of the locks, which are 33.54 m wide, 12.56 m deep and 320.04 m in length. Then
few years back a project named Panama Canal expansion project has started which was proposed to create a new lane of traffic to allow larger ships to travel.
Ship Waiting at Panama Canal Gate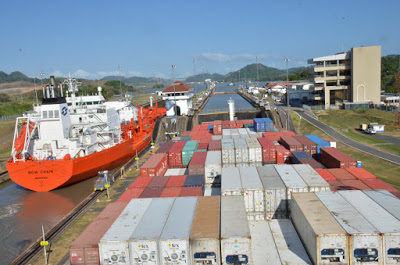 Image Courtesy: Panama Canal
This project is also known as the Third Set of Locks Project. The idea of third set of locks has evolved in order to allow larger ships to travel which have cargo capacity greater than that handled by previous current locks. The Third Set of Locks Project was initially proposed by the Panamanian President Martin Torrijos on 24th of April 2006.
Economical Importance of Canal
Well not only the canal is economical to the ship's owners and traders, but also for the people of panama. A good part of the GDP of panama comes from the canal charges. Also because of the shipping importance it has, a complete infrastructure related to the shipping like crew licensing, vessel flag registration etc are also well developed here.
The  expansion Project
Plans of this  Canal expansion project are as follow:
Firstly, they are going to construct two new locks, one on Atlantic side and other on the Pacific sides; secondly, there will be excavation of new channels for the new locks; they will improve the channels that are already existing by making them deeper and wider; enlarging of width of current will also be done so that more cargo ships can pass.
Video Showing Filling of New Gates of Panama Canal
These expansions are not only beneficial for Americas but also for the European and Asian countries which in overall a development of world. As per the experts this will a whole new change in the way the trade takes place between the east and west coast of America. And lots opportunities are waiting to happen when this new channel opens.
World most busy channels, Panama and
Suez Canal
both are getting their expansions project done as fast possible. With companies ordering ultra large container carriers, this was the need of hour to expand and modernize these channels.
It will interesting to see the future of these channels, as the rate at which shipping is evolving, it will always going to be bigger and faster.
Hope you enjoyed reading this article on Panama Canal