This is a Journey in mariner's life which he can never forget, that's not what I say, that's what i have ever heard from my senior mates and on the verge to complete it, i feel the same. 12 months in
Tolani Maritime Institute
, 18 months of sea-experience and 4 months of 2nd mate functions were the days i will never forget. This article is dedicated to all my friends who made these days beautiful especially my batch mates.
The Unfolding of Story….. From cadet to officer
The Period was not so easy as it could be expressed here, every cadet count every day at sea despite of the fact that he is the only trainee officer who is allowed to make mistakes and enjoy the most, at times.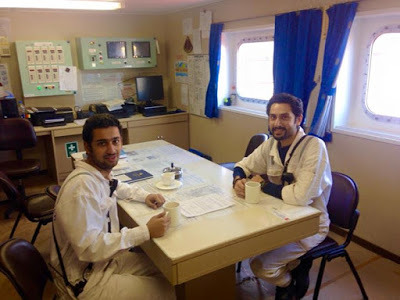 Image Courtesy: Kamal Soni
The life seems Glamorous to all who are not part of it. But it's not the same, we get to see beautiful places of the World, it's true, but it's not the only thing, for this we have to work allot, sometimes day-night long without meals. Ship berthed in Texas, m going for shore leave, my friend might think this other way (Fun, Party) but no one thinks that for that shore leave i might have to spend sleepless nights working to get a shore-leave tomorrow.
  I might feel sad doing so, but i will later on get the benefits knowledge and experience which is very much required. But it's worth it. To get something, you have to lose something.
 Days spent together during 2nd mates functions in delhi and for writtens-orals examination in Mumbai were among best days of my life. And like others, i will be telling my cadets about these days on bridge one day like you all.. 🙂 Late night parties, celebrating birthdays, Movies, leg-pulling, teasing, useless long discussions and serious study day before examination will be in everyone's mind life long.
             Now, as we have cleared all examination the Horizontal Strip has changed to Vertical ones, what added to it is responsibility, competency seriousness, trust….!! a master (captain) hand-over's his SHIP to us with a TRUST that this guy is competent and now my representative to navigate this massive ship safely, keeping in mind that he has in his hand life of 22 other's sailing with him in the vast Ocean, away from home, away from family.
We represent our Nation among other countries of the World, Nation's good or bad name and its reputation is in our hand. Indian Officer's are among the Best Officer's in the World And i know, me along with my batch mates will never let this Title down at any cost. Life ahead for us is to Learn–Earn–Spend–Enjoy–Travel–Explore and Prove that Mariner's Were The Best,
Are The Best And Will Be The Best….!! Cheers to all.