Chief Engineer is the sole head of the machines and matters related to the technical area. Machines that are in the engine room and those who are on the deck are all comes under him or her. Being head of the department that makes the ship to move in the waters, he or she needs to have knowledge and experience of the things that make it happen. Let's see more about this rank in detail.
Chief Engineer Onboard
 Chief normal day routine starts with a round of whole engine room. He or she has to make sure that everything is proper, ranging from cleaning to the proper functioning of the machinery. They might not be involved in doing major overhauls, but they advise the second engineer as how to do the job and also, what precautions needs to be taken, while doing it. Most of the time is spent in doing the paper work and also be in the contact with the company regarding the spares on. Before placing requisition for the spares, he or she will take inventories of the various machinery on board from the respective officers in engine and Deck.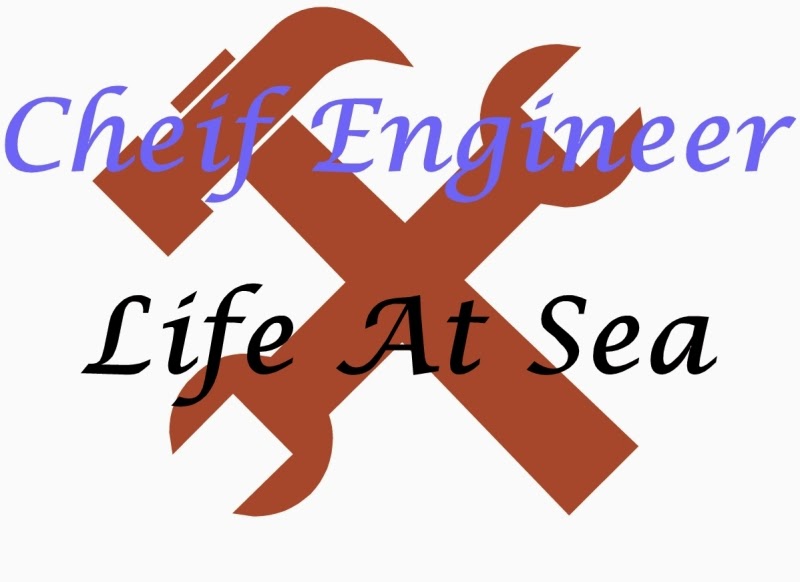 They will contact with the superintendent in case of major problem and also, if anything that happens onboard which needs the attention of superintendent. Since being in the top four ranks on the ship, they will participate in all the management meetings onboard. Other works in engine room depends on the Chief engineer, as what they want to do. Another very major event on ship that requires the expertise of this rank is the bunker operations. They with 4th engineer will take sounding of the tanks and also send the report to the company as how much bunkers they need. Obviously in this whole process, Captain role cannot be neglected. The amount bunkers that will be given to the ship
will always depends on the company and also, how much between the ports in a
particular voyage.
Shore Jobs for Chief Engineer
Chief Engineer being at the sea for quite a long time finds it's easy to get job ashore. They can work in any company; where there is a need of engineers (most of them do have it). For example Ship Yards, hotels, luxury vessels, engine manufacturer, education, technical consultant etc. So job opportunity are ample in amount, you just have to be very thorough about what you are doing and how it will be done.
In some cases, people have started their own business which is related to the shipping sector like logistics, spares etc. And that's a lot inspiring for other people to try their hands in the field as for doing business.
Salary of Chief Engineer
Often they are paid really well. Salary depends on various factors like your experience, flag vessels etc. But, usually there is a trend of 10000$-12000$ for a chief Engineer. But it goes up when you are sailing on a tanker vessel and you have more experience. Plus you have annual increment depending on the company policy.
Certain companies give additional benefits to the people like yearly bonuses, depending on the performance and also how well company does in that financial year.
What after Chief Engineer
Chief engineer is the last post in the engine room. After either people retire or they go for a shore job. But in technical terms, next post after chief engineer is superintendent, but it's not compulsory that you need to be a chief engineer to reach this post.