Maritime Academy of Asia and the Pacific Entrance (MAAP) Exam, Courses Offered, Application form, Fee, Scholarships and Contact Details.Maritime Academy of Asia and the Pacific is a private institution which provides higher education. The academy was formed on 14th of January in year 1998 by the Associated Marine Officer's and Seamen's Union of the Philippines. Academy is located at Bataan, Philippines and its old campus covers over 103 hectares area. Capt. Gregorio S.oca is the president of academy and supervises as head of board of governor. He is one of the alumni of the Philippine Merchant Marine Academy. The Maritime Academy of Asia and the Pacific aims to create professionally qualified marine engineers and deck officers. Excellence in maritime education and training is the prime motive of this academy.
Credit:MAAP
Courses offered by Maritime Academy of Asia and the Pacific
Three main academic programs offered are-
·       Bachelor of Science in Marine Engineering (BSMarE Curriculum)
·       Bachelor of Science in Marine Transportation (BSMT Curriculum)
·       Bachelor of Science in Marine Transportation and Engineering (BSMTE Curriculum)
MAAP Entrance Exam and Application Form
Applicants interested in the Maritime Academy of Asia and the Pacific must fulfill essential requirements of the academy which includes both physical fitness and well academic performances. Basic and most important requirements that an applicant must realize can be listed as:
                               The student should be physically fit.
      MALE candidates must have 5 ft. 4 in. of minimum height whereas Female candidates must have minimum of 5 ft. 2 in. height. He/she must have completed his/her High School with a minimum GPA of 83%. The applicant must be born in the given period of time i.e. from 1st of April 1993 to 31st March of 2000. He/she must verify his/her marital status as single.
Maritime Academy of Asia and the Pacific Admission Process
Procedure for consideration of an application begins with the application form which is available on the website; candidates can download it from there. Forms are also available on some specific centers that are Naval ROTC units, PGC stations and any filing/testing centers in all over the country from where candidates can take for them in person.
An appropriately filled form with the other required documents is to be submitted to the selected filling centers. Applications can be sent personally or by mail. Those documents required along with the application form are as follows:
Cadets Standing During Graduation Ceremony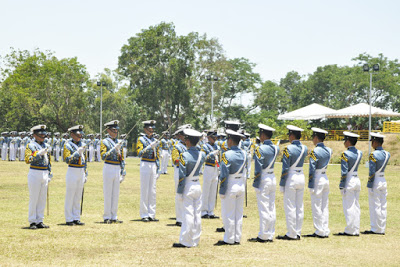 Credit:MAAP
·       Colored 2 x 2 picture of applicant (two copies)
·       Application fees of P 300.00 as cash or money order that is payable to the Academy
·       Birth certificate of applicant (photocopy)
·       Applicant's  High School degree (photocopy)
·       Mark sheet of High School with minimum 83% aggregate (photocopy)
·       Fee of mailing i.e. P 130.00 through express or courier delivery

An application slip will be given to the applicants after their application form and documents are received by the centers. The slip is to be retained with the candidate for future use. The main criterion of admission is based on the entrance test of academy, after that in person interview of the candidate is important part of the procedure. Before admitting the student in academy full medical check up is done including visual & audio test. Only after clearing these steps of procedure the applicant would be considered as a student of MAAP.
Maritime Academy of Asia and the Pacific (MAAP) Ranking and Review
MAAP is among the best and
finest maritime colleges
that are present in Philippines. The sheer amount of quality training imparted to the cadets over the year has made them to earn a good name in the industry. Because of this very reason the numbers of students who are applying for this college are in large number and only the best make in to it. Those who are studying here don't have to worry about the jobs. Facilities provided by the college are up to the best mark.
Maritime Academy of Asia and the Pacific Fees structure
Tuition fees for the courses in Maritime academy of Asia and the Pacific is different for non member student of AMOSUP and member of AMOSUP.
·       For Unaffiliated candidates- 2,000.00 Php/unit
·       For student member of AMOSUP- 1,000.00 Php/unit
For students that are connected to Company of Japanese Shipping, tuition fees is 200.00 Php/unit.
Maritime Academy of Asia and the Pacific Scholarships
Students that are availing awards of scholarship by qualifying the required criteria of scholarship in the academy will get many benefits such as-
·       Housing will be free of charge
·       Insurance will be provided
·       Students would get in-house training of shipboard.
·       Students will be able to participate in various extra curricular activities
·       Modern facilities and equipments can be used by students
·       beneficial employment onboard modern vessels of foreign shipping companies
The criteria for scholarship enrollment are as same as the application requirements. All the procedure for scholarship registration is also followed by the application process. Candidates who want to engross for scholarship just have to take and submit a scholarship form along with form of application.
Maritime Academy of Asia and the Pacific Contact Details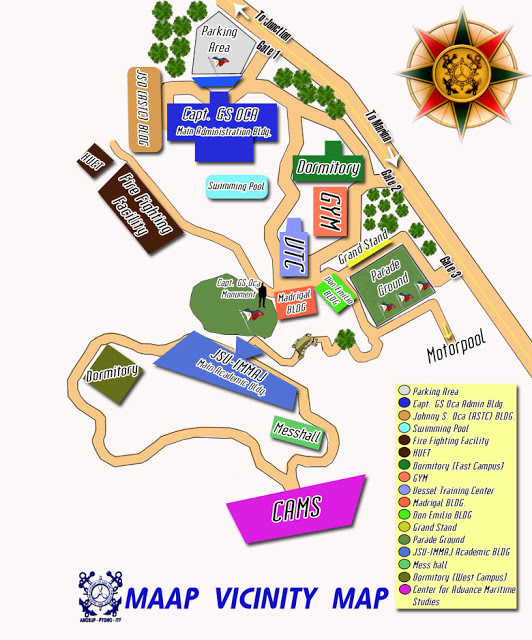 Credit:MAAP
Address: Kamaya Pt., Brgy. Alas-asin, Mariveles, Bataan
Telephone Nos.: MAAP TEL: (02) 784-9100
MAAP BATAAN: (047) 237-3355 (0917) 533-8263
Fax No.: (02) 741-1006
Email: info@maap.edu.ph
Website: www.maap.edu.ph
This was all about Maritime Academy of Asia and the Pacific.