Have a look at some of the common abbreviations that are
used in the shipping industry. There are plenty of shipping abbreviations, and
we should know them. From main engines to bunkers, in all places we have short
term used for big word. Let's see what they are.
Shipping Terms
A
ACONIS Advance Control and Intergrated
System
ACU Auxiliary Control Unit
ALCAP Alfa Laval Calorifier and Purifier
ACB Air Circuit Breaker
AVR Automatic Voltage Regulator
AHU Air Handling Unit
ARPA Automatic Radar Plotting Aid
ACP Auto Chief Control Panel
AMVER Automated Mutual- Assistance Vessel
Rescue
AC Alternating Current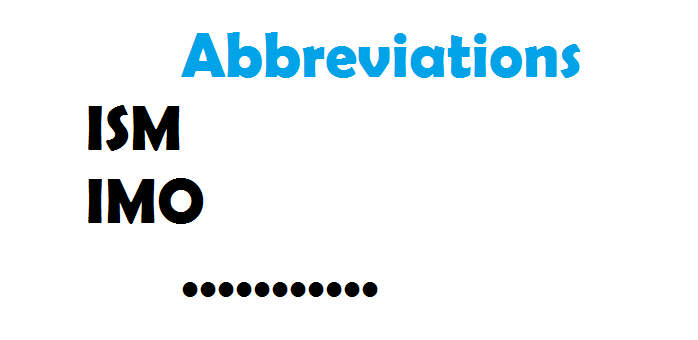 B
BDC Bottom Dead Centre
BDN Bunker Delivery Note
C
COLREG Collision Regulation
CCU Cylinder Control Unit
CFW Cooling Fresh Water
CSW Cooling Sea Water
CAMS Control and Alarm Monitoring System
D
DO Diesel Oil
DC Direct Current
DGPS Differential Global Positioning System
E
EICU Electronic Interface Control Unit
ECS Engine Control System
EPIC Electronically Profiled Injection Control
ELFI Electronic Fuel Injection
ELVA Electronic Exhaust Valve Actuator
EAS Extension Alarm System
EPIRB Emergency Position Indicating Radio Beacon
ECA Emission Control Area
ECR Engine Control Room
EEZ Extended Emission Zone
EGC Exhaust Gas Cleaning
EEBD Emergency Escape Breathing Devices
ECDIS Electronic Chart Display and Information
System
EGR Exhaust Gas Recirculation
EPC Electronic Programmer Controller
ESU Engine Safety Unit
F
FIVA Fuel Injection Valve Actuator system
FEW Finished With Engines
FFA Fire Fighting Appliances
FO Fuel Oil
FW Fresh Water
FWG Fresh Water Generator
G
GHG Green House Gases
GOS Graphic Operator Station
GMDSS Global Maritime Distress and Safety
System
GS General Service
GPS Global Positioning System
H
HPS Hydraulic Power Supply
HCU Hydraulic Cylinder Unit
HAM Humid Air Motor
HFO Heavy Fuel Oil
HT High Temperature
HP High Pressure
I
IMDG Internation Maritime Code for Dangerous Goods
IMCS Integerated Monitoring and Control System
ISM Internation Safety Management System
ICCP Impressed Current Cathodic Protection
IMO International Maritime Organization
IMCS Integrated Monitoring and Control System
INS Integrated Navigation System
ISPS International Ship and Port Security
L
LSHFO Low Sulphur Heavy Fuel Oil
LSMDO Low Sulphur Marine Diesel Oil
LGSP Local Group Starter Panel
LOP Local Operation Panel
LTU Lever Telegraph Unit
LTA Line Throwing Apparatus
LUBECS Lubricating Control System
LCD Load Change Dependent controller
LT Low Temperature
LED Light Emitting Diode
LSA Life Saving Appliances
LO Lube Oil
LDC Lamp Drive Cabinet
LPS Lamp Power Supply
LFL Lower Flammable Limit
LP Low Pressure
M
MOP Main Operating Panel
MDO Marine Diesel Oil
MGO Marine Gas Oil
MARPOL Marine Pollution
MESB Multiple Emulsion Breaker
MCB Main Circuit Breaker
MPS Multi Phase Separator
MCCB Moulded Case Circuit Breaker
MGPS Marine Growth Prevention System
N
NFU Non Follow Up
O
OMD Oily Mist Detector
OCP Operational Control Panel
OWS Oily Water Seperator
P
PMS Power Management System
PCB Printed Circuit Board
PPM Parts Per Million
PSC Port State Control
PLC Programme Logical Control
R
RCS Remote Control System
S
SOLAS Safety of Life At Sea
STCW Standard of Training and Certificate of Watch
keeping
STG Steam Turbine Generator
SSP Safety Switch Panel
SMCR Specified Maximum Continuous Rating
SECA Sulphur Emission Control Area
SCR Selective Catalytic Reduction
SAM Scavenge Air Mosturization
SDS Smoke Detection System
SDNR Screw Down Non-Return Valve
SWL Safe Working Load
SART Search and Rescue Transponder
SW Sea Water
T
TCP Turbine Control Panel
TDC Top Dead Centre
U
UMS Unmanned Machinery Spaces
UTC Coordinated Universal Time
UPS Uninterruptible Power Supply
V
VOCs Volatile Organic Compounds
VDR Voyage Data Recorder
W
WHRS Waste Heat Recovery System
WIF Water in Fuel Emulsions
If you have any more to suggest, please comment below.