Merchant
Marine Engineer Officer Program offered by various Maritime Higher Education
Institutions is given below.
Marine
Engineering is branch of engineering that deals with the technical aspects of
the shipping industry like Ship engine, machines, auxiliary machines, Oil Rigs.
Anything which is technical and related to the shipping worlds comes under
marine engineering. Marine engineers in today's are in great dreams, if they
are well trained.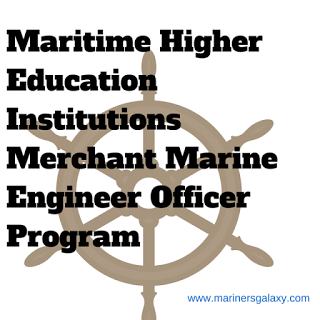 Since shipping
world is growing faster, it is quite necessary for training a skilled workforce
for the same. Below is given list of approved maritime training institutes that
offer this course.
MTIS for Merchant Marine Engineer Officer Program
1. Asian
Institute of Maritime Studies, Pasay City
2. Technological
Institute of the Philippines – Quiapo Manila
4. NYK-TDG
Maritime Academy, Canlubang, Laguna
5. Philippine
Merchant Marine Academy, San Narciso, Zambales
6. Malayan Colleges
Laguna, Cabuyao, Laguna
7. Baliwag
Maritime Academy, San Rafael, Bulacan
8. John B.
Lacson College Foundation-Bacolod, Inc., Bacolod City
9. Mariners
Polytechnic College Foundation, Rawiz, Legaspi City
10. Mariners
Polytechnic College Foundation, Canaman, Carnarines Sur
Note: Every
college has its own admission process and same can be understood from the
official sites or the official campuses.
11. VMA Global
College, Sum-ag, Bacolod City
12. Zamboanga
State College of Marine Sciences and Technology, Zamboanga City
13. DMMA
College of Southern Philippines, Davao City
14. FEATI
University, Sta. Cruz Manila
15. Capitol
University, Cagayan de Oro City
16. University
of Cebu,- Mambaling, Mambaling, Cebu City
17. University
of the Visayas, Cebu City
18. Palompon
Institute of Technology, Palompon, Leyte
Marine engineer
job is highly responsible and well paid job. One should have both
strong knowledge and skills about the various machineries that are used in the
industry. Candidates should learn as much as possible during their training
period in the college.
19. St.
Therese-MTC Colleges – Magdalo, La Paz, Iloilo City
20. Manuel S.
Enverga University Foundation, Lucena City
21. Technological
Institute of the Philippines – Quezon City
22. Lyceum of
the Philippines University- Batangas, Batangas City
23. John B.
Lacson Foundation Maritime University – Arevalo, Iloilo City 171
This was all from Maritime
Higher Education Institutions Merchant Marine Engineer Officer Program.