Read a small interview with fellow sailor chief  officer as what he has to say about joining merchant navy. Also read the misconception that he tries to remove which are related to the profession of sailing.
Candid Interview With A Sailor
Can you please tell us about yourself little bit?
– My name is Vishwesh and I am from India. I love traveling and never wanted to do a normal office job hence I decided to join Merchant Navy. I am always hungry for knowledge and I truly believe in the concept of "Jack of all Trades and Master of Some". I like collecting stamps and visiting historical sites and places. I am fascinated by ancient history and hence love  going to Museums, read about ancient civilizations.
How you got in to sailing?
– As being of adventurous nature and inclines towards Geography and history, I never wanted to do a normal 9 to 6 job. As I also love traveling Merchant Navy seemed as a perfect option for me. Hence I joined Merchant Navy and have never regretted that decision. I eventually found out that Merchant Navy gives scope of widening one's horizon of knowledge which was an additional bonus for me.
What you do, when you are not sailing?
– As shipboard routine is quite hectic I like to spend time at home relaxing and rejuvenating. Plan a holiday if feasible otherwise catch up on various things that have happened in my absence.
Are you planning to be a full time in this career?
– Yes. I just completed my Captain's exams and would like to sail as a Captain before eventually shifting to shore avenues related to shipping.
What upgrades, do you think can pull more young lads to pursue sailing as a career.
– Clearing the misunderstandings of landlubbers with respect to various aspects of shipping will certainly help. Changing the outlook of people from Merchant Navy being all about "Wine Women and Wealth" to making them realize that another "W" has been added which supersedes all others which is "Work".
How is your experience till now in both personal life and sailing?
– It has been very humbling and has made me realize that how much nature has to offer to us for learning and that there is no end and age to learning. On Personal front I am very fortunate to be married to a girl who not only understands and appreciates the profession but is also as much passionate about it as I am. I could not have asked for a better life partner.
 Does long distance affects sailor's personal life?
– Not if you have understanding and love. Of course there are times when you want to be there with your better half or you want your better half to be with you but then again I feel that if you have the emotional and mental bond then no matter physically we might be apart but we are still one. Also staying away makes you realize to a much greater extent how precious your better half is and that he/she is truly someone whom you cannot live without. Read more about this topic here-Sailors Relationships.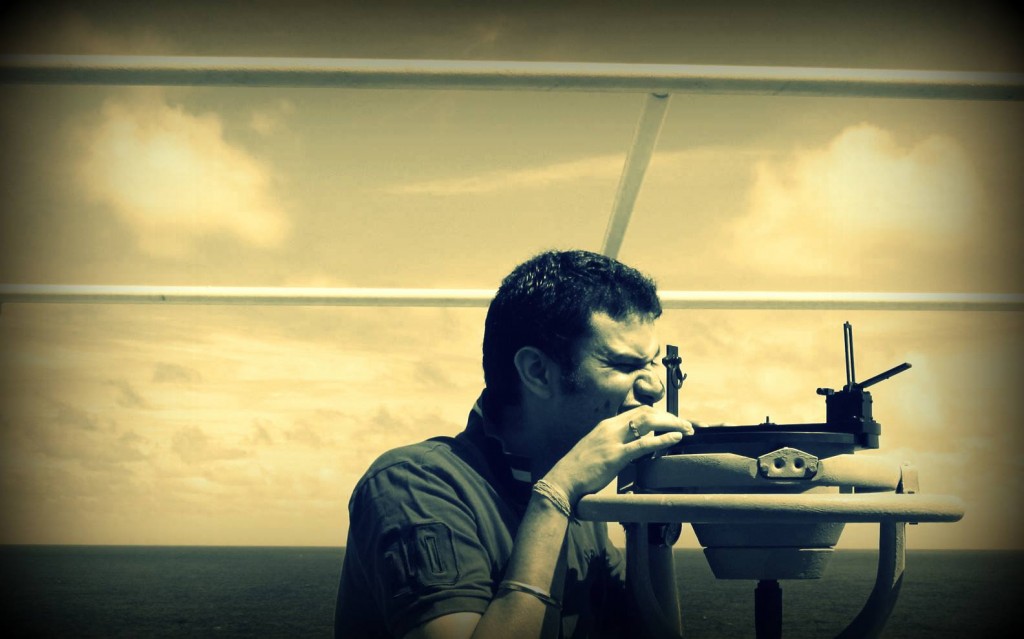 How is your daily schedule as sailor?
– Being the Chief Officer is start my day at 0400 with my bridge watch. At 0800 after my watch eat breakfast and 0845 change into working gear and go out on deck to check the progress of various delegated activities. Talk to my ratings and find out if everything is on track or if they have any issues etc. This goes on till about 1200 in between this time I do some periodical checks. 1200 is lunch time and if the checks are not finished I go out on deck again till 1500. 1600 again bridge watch till 2000. After that probably watch some Series or a movie, listen to some songs and then sleep by 2200. Read more about chief officer work.
Any major change you want in the sailing world?
-Nowadays Sailing has become more of a business then a passion. I know and appreciate that after all it's all about the money but then again we don't have to kill the passion of people with respect to sailing for that. So the "Managers" have to loosen the noose around seafarers and let them take decisions on their own and not take decisions for them. Most of the "Managers" are MBAs which means they know how to make money but they don't know a knack about shipping and hence cannot appreciate the various challenges faced by us. Bottom line of it being shipping companies should have a certain percentage of seafarers also in their shore establishment.
What you think is lacking in the new sailor(s)?
– New sailors are missing the root knowledge of shipping. Most of them are here for just money and hence attitude towards learning and sailing is quite different. New sailors don't know things like Sextant observations and the knowledge is only superficial it does not go deep.
Your favorite, tourist destination, Recipe, Actor/Actress, car. Who is your role model?
– Favorite tourist destination – London
– Favorite Recipe – Pasta in white sauce with nice seasoning.
– Favorite Actor –Hollywood – Adam Sandler
-Favorite Actress –Hollywood – Jennifer Aniston
-Favorite Car – Jaguar
Last Question- what you think about marinersgalaxy.com
?
– I think it's great platform for expressing one's experiences and thoughts. Wide spread popularity of the site helps in spreading the word around and hence more and more people can be appreciative of the profession. Kudos to you guys for standing up for OUR profession.