Being in love with sumone is a matter of pride and luck for any person in this beautiful world but being in love with the one u are absolutely proud of..u are absolutely crazy of..is shear destiny and best of the fate any girl could ever have!!
My tiny story of being Prateek Ki Akriti…
The world has almost turn around when u were with me,
The life has almost been perfect when I am with u.
My World is happiest n brightest when u are with me,
My family is absolutely perfect with smile when i m with u.
A husband Wife is a perfect relation n purest form of all emotions,
But being a navy wife is the perfect designation and craziest form of devotion.
Loving u immensely by counting days and minutes is my way of passion,
Waiting for you behind ur back is my way of dedication.
You wearing your uniform and being on your duty call is your pride and honour,
Me being your wife and mum of your child is my trophy of achievement in all thr manner.
Me Mrs Akriti Prateek Malhotra just sharing my tale of being my sailors wife and he being my Pride😍
MY STORY GOES LIKE THIS
Queens.. A queen is prideful lady in disguise with her glitters and glammers and her tiara.. For me being a Navy officer's wife..his appellets are my beautiful tiara.. His navy cap is my glittering jewels and his prideful uniform are my royal apparel representing my brave dynasty.. My sailors kingdom😍…he being the king of this kingdom and me her beloved queen👑
All that has been started with the life changing proposal given to me by his aunty.. The lady who came as angel in my life to bless me wid my greek god.. My love.. My sailor.. My man………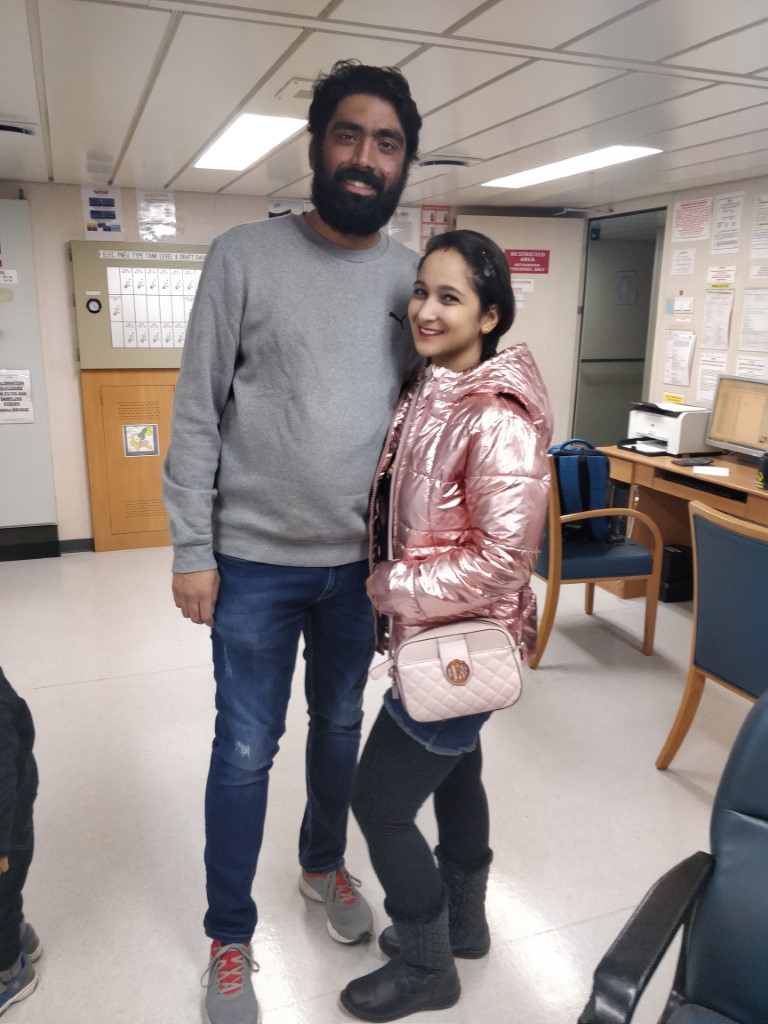 My life started with a beautiful proposal from his aunt (she is my cousin aunt too) on my cousin's marriage function. He was on his sailing so both families met and we had our 1st satellite call then things moved on…. No one was into merchant navy from my family so I had soo many queries but he answered them so beautifully and in a positive manner. After 1.5 months he came and we got engaged within 15 days… being in a courtship period he completed his 2sailings and 1year 6months later we got married in Dec.2015..
My 1st sailing with my sailor and our little baby boy got possible in Nov.2019. Joined from Mexico (solo travelling of 32hrs with 2.3yr. kid). Initially enjoyed small sailings of 2 days and then enjoying shore leave was amazing.. Finally got sailing of 10 days with rough weather ( high pitching and rolling) and a chance to witness the beauty of the Panama Canal which added amazing memory in my sailing.
Being away from home with limited resources , daily frozen food and limited space (cabin,bridge or common room) was tuff inuf but being with my sailor and experiencing his life is a gift… watching Dolphins, Sunset sunrise ,night view were mesmerizing. Hell lot of questions on bridge, deck, visiting engine room (at times), watching movies and fun/ creative time with kiddo were different ways i was passing my time. Cup of coffee with officers was best time pass..

In small period of time they became like family. Being part of ship's small party were really interesting. Sailor's used to enjoy a lot wid my kiddo… in working time also a smile on their face with him makes a beautiful memory..
Trying to take care of my man on every step but keeping in mind his professional life..This made us more close to each other and much more clear about his job.. After this sailing experience i wouldn't be thinking much that where he is.. or saying that he is enjoying by roaming out..
Thanks to Sailor's… my special man for making my each day soo special on sailing