Most of the mariners phase this acute dilemma, that what to do, after their sea career. Yes the anxiousness can be justified from the fact that, when you move out of the sea, certainly you are little bit apart from the crowd. But there are certain life experiences that I have seen, in which merchant people become better when they entered in other fields after they
served at sea
.
Offshore Jobs Opportunities For Sailor's
I don't know how many people know this, but when you work out there in sea there are lots of good things you get inherited to and some of them are:
1)       To be able to work by you, thus reducing dependency on others.
2)      Able to work in some extreme conditions, rough whether etc.
3)      More socially sound; yes a seafarer knows the value of social life.
4)      Sort of leadership quality, if not, at least you are responsible for your work.
5)      And many more.
Now comes the main part i.e. job opportunities.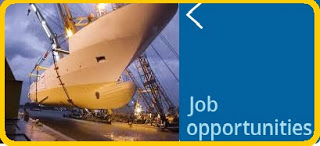 A)     Hospitality Sector
Yes there are ample amount of opportunities out there. I talked a person some time ago and, he was working with leading hotel chain as fire safety officer (Seafarers knows better how to handle them), and people give privilege to them. Engine people can work any type of boilers, generators which are used here.
For Deck people, management handling is the correct options and they are in great demand.
B)     Company Consultants
Shipping companies are not run by, people from any other sector. It is the shipping people who run it. Those who are employed in carrying out technical things at sea will find jobs as technical consultant. On other hand, navigation people can look for management part like running HR operations etc.
C)      Teaching as a Career
To what from you started with is the best to again start with. If you think you can give something (
Experience
) to the new seafarers is really something very good. Today we are facing acute shortage of experienced people to teach and due to this very base of our education is trembling.
D)     Being Entrepreneur
Many maritime professional have turned themselves in to their own boss. They are successful in opening new companies; business etc. and they are quite successful in it. Because what they learnt at sea, they implemented that in their business. Doing business does not mean that you are related to your field only, there are other fields also. I have seen many merchant people turned in to successful business man.
E)      Logistics Operations
This is a very good opportunity and needs
experienced professionals to handle these operations. There are various job opportunities out there and a good career is there in this field. Over the years, this industry has grown to more sophisticated one, and thus it requires experienced professional in to it. Since in coming times trade will increase, and also the exchange of material from one place to other is going to change, we are seeing a new way in this area. So these were some of the jobs that seafarer opt in after serving at sea.