National Maritime Center Performance Figures. The National Maritime Center (NMC) is the U.S. Coast Guard's authority for issuing credentials to merchant mariners. The NMC also approves courses, programs, designated examiners, and qualified assessors for maritime training and assessment. The NMC's mission is to ensure a safe, secure, and environmentally sound maritime transportation system by providing professional and timely credentialing services to the U.S. mariners.
The NMC measures its performance in three areas: inventory, throughput, and processing time. Inventory is the total number of applications or requests that are currently being processed. Throughput is a ratio of the number of applications or requests finished divided by the number of applications or requests received. Processing time is the average number of days it takes to complete an application or request from the date it is received to the date it is issued.
National Maritime Center Performance Figures 2022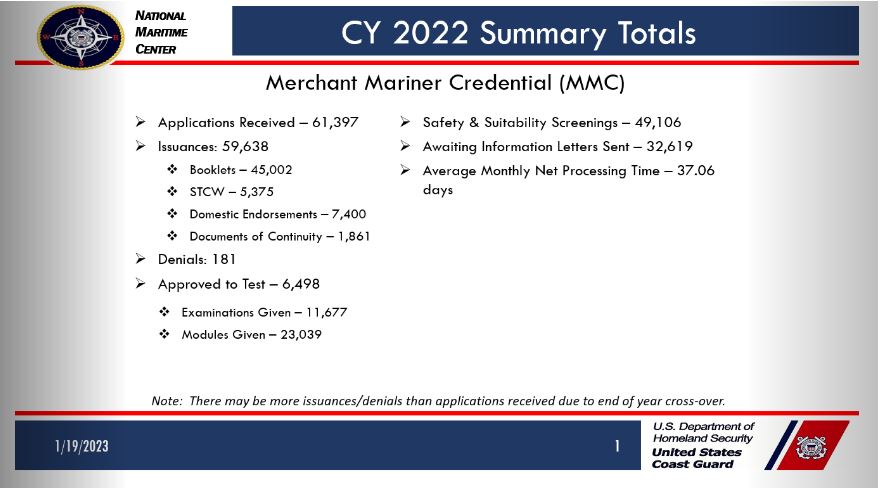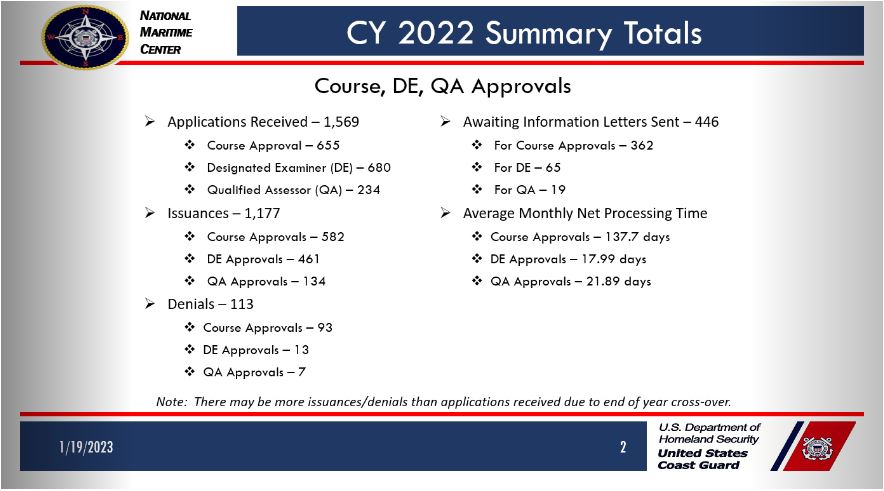 The NMC publishes its performance figures on its website every month, as well as quarterly and annual reports. These figures show how well the NMC is meeting its goals and standards, as well as identifying areas for improvement and challenges. The NMC also uses these figures to inform its strategic planning and resource allocation.
According to the latest monthly report (February 2023), the NMC had an inventory of 8097 applications and requests, a throughput of 0.65, and a processing time of 35.67 days. These numbers indicate that the NMC is processing more applications and requests than it receives, but it still has a backlog of pending cases. The processing time also exceeds the NMC's target of 30 days or less.
The NMC attributes these delays to an increase in application volume and technical difficulties with its credential production equipment. The NMC apologizes for the inconvenience and asks for the patience of the applicants as it works to resolve these issues. The NMC also offers some tips and resources to help applicants expedite their credentialing process, such as:
– Starting with a checklist to ensure all the required documents and information are submitted.
– Applying online using e-submission or e-mail.
– Checking the application status online using the tool on the NMC website.
– Scheduling exams, submitting applications, and getting information at one of the Regional Exam Centers (RECs).
– Using expedited mailing options for sending and receiving credentials.
The NMC performance figures are important for both the maritime industry and the mariners who work in it. They reflect the quality and efficiency of the credentialing process, which affects the availability and competency of the maritime workforce. They also provide feedback and accountability for the NMC's operations and services, which aim to ensure maritime safety and security.
If you want to learn more about the NMC performance figures, you can visit their website at here.