A port is a lot essential part for a country and it contributes significantly for the growth of economy of that country. Over the years, countries are pushing all limits to provide ship operations as fast, safe, reliable and easy. Over the past years we have seen that trade has increased to another levels and this can be attributed from the fact that trade is more feasible through ships. Although shipping sector has gone through its tough times, but slowly it is coming out of depression well. Following are some of the world busiest and Largest Ports:
World Largest Ports
Port of Shanghai
Located in Shanghai, China, this port has emerged among the top year after year. It left back Singapore port behind and handled 35.2 Million TEUs in 2018. Three major rivers have its ends here Huangpu River, Yangtze River, and Qiantang River. Due to this, a very good depth for ships to come in is there. Presence of river supports inland waterways. Shanghai Port is located in East China Sea. After 1991, major expansion and modernization of this was carried out to meet the increasing demands.

                                                                                                                            Image courtesy-Singapore port
Port of Singapore
Until 2010, it was the number one ports in terms of cargo handling. In 2018 they handled 33.9 million containers. Here group of terminals are there, and they handle all the cargo ships that are coming towards it. Around 44 berths are present to handle cargo and it spreads in an area of 437 hectares with 16 m draught. Singapore Port is also famous for being a preffered terminal for Cruise operators like Royal Caribbean etc.
Port of Hong Kong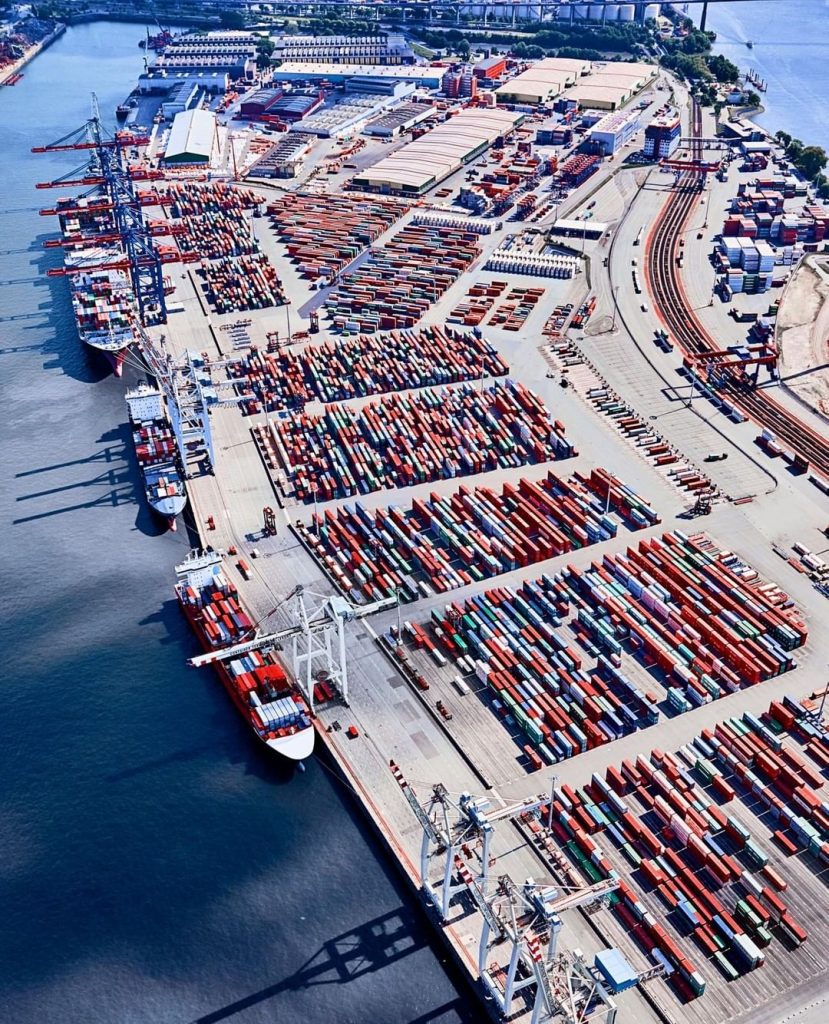 This is famous for the container operations and a preferred location as it is a deep water port. Around 18 berths are present to accommodate ships. 24.38 million TEUs cargo was handled by this port in the year 2018. It hardly takes 10 hours for terminals present here to take out all the containers. Various multinational companies are operating from this port like 'Cosco' etc. Facilities for dry dock and maintenance are also present here.
Port of Shenzhen
It is located around the regions of Pearl River Delta region which lies in southern part of mainland as a part of Guangdong province. For Hongkong this is the major source of trade and development that have taken place in the past few years. There are number of shipping companies operating from here. Currently development plan for 6 other ports that will be part of it are being made. Around 140 Berths are located here that comprise for all types of ships with varying deadweight. In the year 2019, this post handled around 22.57 Million TEUs and it is increasing with every passing year.
Port of Busan
Fifth in the list of being the busiest port, is located near Korean Peninsula and is located much near to major cities of Japan. Over the years, traffic movements have increased here a lot. In the year 2018, it reported handling of 16.17 Million TEUs. World largest department store called as Seomyeon is located in this city. Not for only for shipping, Busan is a complete city in itself and is renowned for shopping and tourism. Apart from port there are some beaches also, with long chain of resorts out there.
Other ports in the list
6.      Ningbo-Zhoushan-China
7.      Guangzhou-China
8.      Qingdao-China
9.      Dubai-U.A.E
10.  Rotterdam-Netherlands