Get to know about the DG approved medical doctors in Andhra Pradesh with full details like address of the clinic and contact details as well.
Those who are planning to have their medical done for joining colleges, or joining ship, and wants to have their medical done in Andhra Pradesh, then they can have a look on the information provided below. Right now you can get your medical done at Vishakhapatnam only as this is the only place where approved doctors by Directorate General of Shipping are available.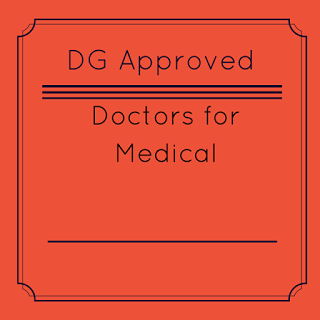 DG Approved medical Clinics in Andhra Pradesh
—Hyderabad—
Dr. G. Anantha Shivasagari
406, Rinda Residency,
New Nagole, Samathapuri
Colony, Dilsukjmagar, Hyderabad
– 500 035
—KAKINADA—
Dr. Pendyala Dilip
69-4-4/1, Srinivasa Nagar,
Kakinada – 533 003
Dr. K.N.V. Sriram
D.No.20-6A-9, Cinema Road C/o.
Shri Ram Auto Mobiles, Opp III
Town Polices Station, Kakinada
EGDT-533 003
—VISHAKHAPATNAM—
Dr. A. Deepak
Venkatarama Hospital,
47/7/43, Dwaraka Nagar,
Visakhapatnam,
Andhra Pradesh- 530 016
Dr. D. Hiranmayi Chikkala
ARSK LIFE SCIENCES
47/7/43, Dwaraka Nagar,
4th Lane, Visakhapatnam,
Andhra Pradesh, 530 016
Dr. Anapu A. S Satish Kumar
C/o, Dr. Amuradha Anapu
Flat SM 0304, Shriram Panorama
hills vuda 100ft road,
Opp. ACA VDCA Cricket stadium,
Near Greendale School,
Madhurawad, Visakhapatnam
(Rural), Pothinamallayapalem-530041
—VIZIANAGARAM—
Dr. Bhargawi Rama Bhojaraju
D.N.B
Migh No. 15, Vivekananda
Colony, Vizianagaram,
Contonment, Andhra
Pradesh – 535 003
—EAST GODAVARI—
Dr. Raja Sekhar Samudrala
R.S Colony,
Sambalpur, Odissa
Pin-768016
Dr.Dwibhashi Karteek
Sri Venkateswara Empire Clinic,
Sri Venkateswara Square,
D.no.8-10-16/1,
Kamala Devi Street,
Gandhinagar Locality,
Kakinada City-533004,
East Godavari District,
Andhra Pradesh State
So these are the doctors that will give medical certificate which is as per the norms of MLC and DG Shipping India. These days as per the
Maritime Labor Convention
it is very necessary to have a valid medical certificate, failing which can lead to serious fines on ship or the person who is not having it.
Share experiences and information regarding the same below in the comment section, it will help other seafarers a lot. This was all from DG Approved Doctors in Vishakhapatnam Andhra Pradesh.