You must have seen the Dirty Job series on Discovery, but let's have a look what is out there on our ships.
Dirty Jobs on Ship
Lets have a look at them:
Bilge Tank Cleaning
Bilges are there to store that water or minute oil that comes through leaking of pumps, machines etc in the engine room. Also we have bilges for cargo, which mostly gets filled up while it is raining. While the bilges of the
engine room
may have little bit of oil in it, which might come because of the machinery leak, these tanks needs to be cleaned on regular basis, so as to avoid them getting rusted or fouling. Cleaning them is not easy as it looks like. Several problems like black grease deposits, dirty water and foul smell are deterrent that come on your way when you clean them. And it may leave you smell whole day.
On the other hand, Cargo Hold Bilges gets dirty more frequently and needs to be cleaned from time to time. They may have some living organism like maggots, insects and even snake also. If these bilges are not cleaned, they may choke the filter cargo hold bilge transfer pump in just 30 seconds.
If any tank was holding any type of oil in it and needs to be cleaned, then, it is also among the dirtiest job you will do onboard. Heavy Fuel is a mess.
Scavenge Space Cleaning
Scavenge Space carries the fresh air for engine, so that combustion can take place. In marine engine (two stroke mostly), the exhaust products like un burnt carbon comes out of the scavenge ports and also from the piston side. This black deposits starts to assemble in whole scavenge space, as time passes.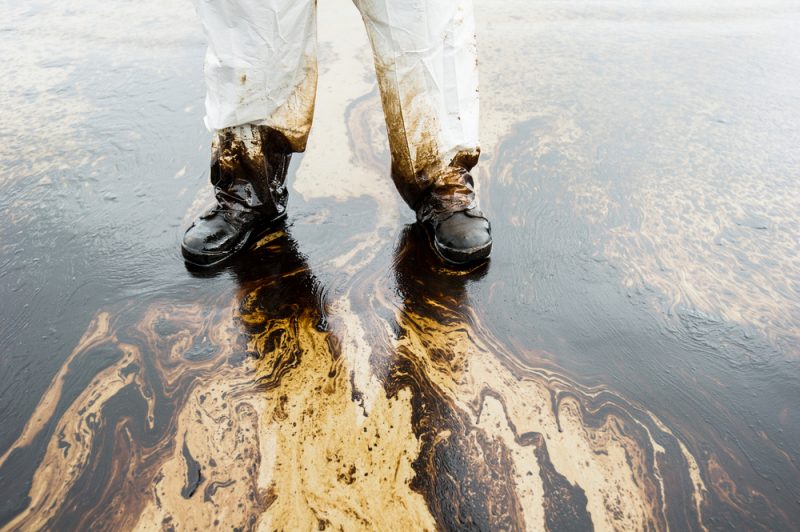 The main problem comes when we have to clean it. It is hard to remove and will give you nice oil and soot bath. Be ready to get shower multiple times.
Sewage Treatment Plant
Touch wood, it should not go bad in anybody contract!!! Sewage treatment plant needs to be cleaned time to time, for its proper functioning. And that's where the problem starts. Well at the end of the day, nobody wants to have vomiting or headache because of shit of yours and others.
Heavy Fuel Oil, the Worse among all
Well, heavy fuel is the top most when it comes to being dirty while working. It is hard to wash off also. Those who work in the engine room know how bad it is. Also in tanker ships, all people must be aware as how it feels when you need to clean the HFO.
In engine room you will deal with it all the time like 
Purifiers cleaning
, main engine and auxiliary engine.
Boiler Cleaning
Want to get your body black, well this is the place to be. During cold cracking (When boiler is stopped to let soot crack down from boiler tubes), lot of soot starts getting away from the tubes of boiler. This is a periodic routine and we need to clean, to keep efficiency of boiler at best.
Proper PPE needs to be worn as soot is very fine and not good for your body.
This was all. Do you have anything to share???? If yes, what you are waiting for, just type it below