When
you are making drawings or representing a particular valve of piece of
instrument, you cannot draw them every time. For making our life easy we have
symbols for representing them, just see it below.
Symbols for Valves
Pressure
Reducing Valve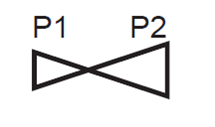 Applications:
They are mostly used where we have a demand of reduced pressure. Like for
instance if we want to reduce 30 bar pressure of air to 7 bar, then they come
in use.
Safety
Valve

Applications:
As name suggest, wherever we want to secure our system (Generally the
pressurized one), we use them. Like boiler, compressors etc.
Self
Closing Valve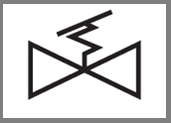 Application:
Generally they are used as drain valves. They are opened against the spring
tension, which puts them back to the normal position (Mostly closes), after
extern force is taken out. Example: Settling Tank drain valve etc.
Butter
Fly Valve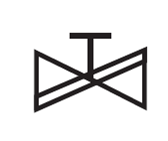 Application:
Places where we need quick closing and opening, we need this type of device. Outlet
valves form sewage tank, control air, or bypass valves.
Gate
Valve
Screw
Down Non Return Valve (SDNR)
Globe
or Gate valves can be made Non return type. Non return types of valves find
there uses in place where we don't want flow to come back like overboard valve,
blow down etc.
Duplex
Oil Strainer
Applications:
Duplex Oil Strainer has two messes, one fore the big particles and other open
for small. They are mostly used for Lube oil and Heavy Oil filtration.
Sight
Glass
Uses:
Sight Glass is a transparent screen that used for looking in to the system,
which is normally used or the purpose is to detect traces of water or oil. Like
Cascade tank or settling tank overflow line.
Gauge
Glass
This
shows the level of liquid that is stored in the tank.
Float
Type Level Gauge







Diaphragm
Operated Valve
Applications:
These type of valve are generally used for load dependent flow like steam, feed
water etc.
Centrifugal
Pump
Gear
Pump
Applications:
They are generally used in areas of lube oil pump etc.
Flow
Meter
Eductor
Uses:
They are generally used for creating vacuum and taking out brine in Fresh Water
Generator.
3 Way
Cock
Uses:
Generally used where we want to divert flow either way. Like changeover of
Duplex Filter etc. Position are L, T and opposite L.
Sounding
Pipe With Cap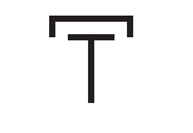 Electrical
Instrument Symbols
So
these were commonly used symbols for various types of valves and electrical
equipments onboard. Hope you liked reading this article.
!!!!Share
this post if You Liked it
Write your queries down below!!!!