IMU CET 2017 results were declared on 8th June 2017. Since this time IMU has moved its pattern of examination from pen and pencil to computer based, lot of thing have changed. Let's learn more about this exam. IMU cet cut off has been discussed here.
IMU CET 2017 Exam Pattern
IMU CET 2016 had 200 questions in total, being asked from subjects like PCM, General Aptitude, English and General Knowledge. Subject wise questions are like this: Physics, Chemistry and Math- 125 questions English, Aptitude and G.K- 75 questions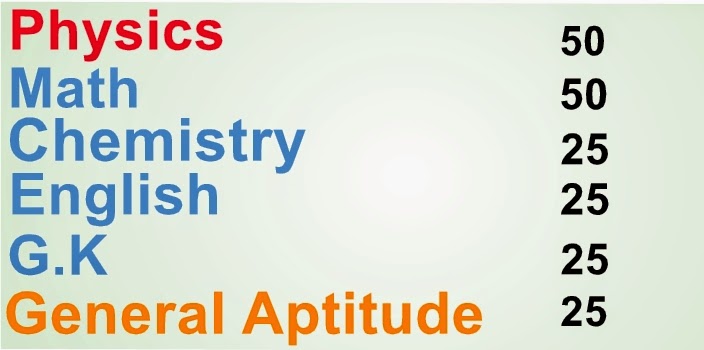 IMU CET 2017 Result
Students after giving computer based exam on 8th June 2017 will have to wait for four more days to get the results. Since this time
they have given computer based test, so results won't take long time to come.
Although 8th June 2016 is the tentative date and may change, but this is the final date till now. In the comments please share the questions that were asked in the exam, and also get experts opinion out there. You can ask in our facebook page as well.
Students can
see IMU CET 2017 Results Online
here,
IMU Results
. The result are available in pdf files, seperate for UG, PG and other courses. Just download the file and then press ctrl+f, and enter your name or imu application number. Make sure
that, you save that, which may come handy for future use.
IMU CET Cut Off- 2017
The cut off this time gone high because paper was easy and students could able to attempt lot of questions.  Well, let's see how the exam pattern was.
In Physics we had around 50, questions asked. And each questions carries, let's say 1 mark. So physics section contributes around 50 marks, which is itself a high number. So whosoever attends more and correct, will surely get good rank. The questions that were asked are not that tough,
expect few questions. Those who have read NCERT books, and some reference ones, will surely get edge on this.
Now comes the Math subject. Same as physics it will also have 50 questions. Since objective questions are there, students need to be quick in solving the problems. Again it contributes 50 marks. The difficulty level of questions that will be asked in this exam will be the deciding factor.
Chemistry section had 25 questions. Students always complain that, they have problem in chemistry. So, those who are finding it difficult
should concentrate on other subjects. English and General Aptitude will have 25 questions each. Plus General Knowledge will have 25 questions of its own. So in total 75 questions are there. Now, if we clearly look in to this, we can easily find out that, if somebody can get maximum questions right in these three sections will have a great edge and will score good marks. And these three subjects will have 75 questions out of 200, which comprise around 37.5% of the whole paper. So it is obviously easy bait. Let's have a look at the chart which is given below.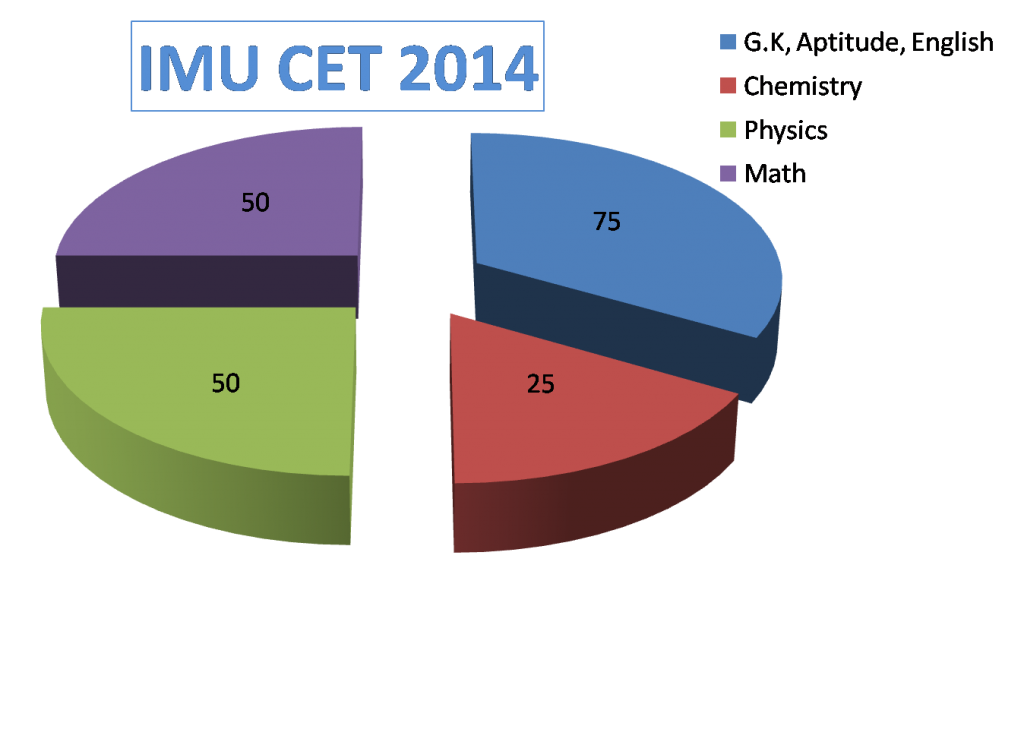 Above picture gives better understanding of how, the whole question paper of IMU CET 2016 is like. Cut off for this exam will depend mostly on how much you attend in 3 hours period and how many you get right. Surely students will have to give more time in aptitude, if some questions involve calculations. Those who are having good command in English will find it easy to score in that particular subject.
IMU CET 2017 Rank Predication
As far difficulty of paper of imu cet 2016 is concerned, it was easy and students found it quite good. Mathematics section was also easy and was based on the basic formulas. As per the students, whosoever have done the mock papers, would have found the exam easy enough. But, if it is easy then it is easy for everyone, and in return, will push the ranks towards more marks. For example: If question paper is hard, so one may get good rank in less marks like 70, because very few people will have that much marks. But, if the paper level is easy, then, one might not able to score good rank, even after scoring more than 100. It is just the way of describing how rank will fluctuate. So, this time cut off has gone high.
What if I Don't Get Good Rank in IMU CET 2017
IMU CET is not an end to your career. There are two things, one you study hard and you did not score well for some reasons, and other one is that you never had enough studies for it. But still if you want to go for merchant navy, anyhow, then, there are several maritime colleges, having
management seats, you can try them. Or you can appear for this exam next year, if you passed 12th class exam this year. Having confidence in you is quite important. Since this is a peak time of exam results, you might not feel confident about what to do next because you may have not got good ranks in other exam. Keep your spirit always up and look towards the brighter side.