Know about MMA Ranking, Review, Book Store, and Tuition Fees, Scholarships application process, about the orientation blog, acceptance rate and contact details. Massachusetts Maritime Academy is also known as Mass Maritime when differentiating with the other Maritime Academies and is abbreviated by MMA. It is a co-educational, regionally endorsed and a public college which offers undergraduate degrees in various fields related to maritime along with graduate degrees.
Massachusetts Maritime Academy History
Mass Maritime was established in June 11, 1891. It is a state maritime academy which is the second oldest in United States. Massachusetts Maritime Academy is situated on Taylor's Point in Buzzards Bay, Massachusetts in The United States. There aims are towards preparing the students for their bright career in marine transportation, maritime business, engineering, emergency management and environmental fields. Initially MMS was established in order to graduate engineering and deck officers for the U.S. Merchant Marine. The president of MMS is RADM Richard Gurnon, USMS. They follow their motto of leadership, knowledge and discipline well. The academy offers degrees in Bachelor of Science and Master of Science.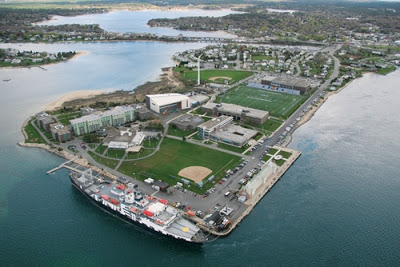 image courtesy: MMA
When the Academy was founded by an act of the state legislature, its name was Massachusetts Nautical Training School. The name was changed to Massachusetts Nautical School in year 1913 and it got its present name Massachusetts Maritime Academy in 1942. In the year 2008, Academy acquired a Vestas 660-kilowatt wind turbine and had begun the installation of solar power screens to produce electricity in the dormitories.
Courses offered by Massachusetts Maritime Academy
Bachelor of Science degrees are offered in following field's
like-
·
Marine transportation
Marine engineering
Environmental protection & safety
Facilities Engineering
International Maritime Business and in Emergency Management
Energy Systems Engineering
Master of Science degrees in-
·       Emergency management
·       Facilities management
Massachusetts Maritime Academy Ranking and Review
Currently this college comes at a Ranking of 6, among the other maritime colleges that are present in the United States. And as per the latest trends, college is expected to make it to the top 5 as well.
Check this video of MMA Academy
As far as the facilities that are provided to the students is worth going for. Plus the campus and type of teaching they provide is also good. Those who are planning to join this maritime college will find it very good. It will be wise for the students to talk to the alumni of the college. Acceptance rate of the college is around 60% and more or less similar every year.
Massachusetts Maritime Academy Orientation Blog
MMA has its own blog for the orientation of new students. Those who wish to get their doubt cleared about the college and how the life here would be, can visit this link http://www.maritime.edu/index.cfm?pg=4409 and ask as much as questions they can. All the information about application deadlines etc are provided here.
Massachusetts Maritime Academy Jobs
Those who are planning to have a career with this maritime college can apply for number of job position that is released throughout the year. Application forms and other info about the jobs can be found at the link provided. So if you want to be part of MMA, visit this link for application: http://www.maritime.edu/index.cfm?pg=jobs
Massachusetts Maritime Academy Book Store
MMA has its own dedicated book, apparel and gift online store. You can get all the things required for the college life like dress, sports items etc. Plus they also offer clearance sales as well, so those who are planning to buy something can visit this link 
http://www.bkstr.com/massmaritimestore/home
Massachusetts Maritime Academy Application Process
Interested students can apply online for their favorable courses and have to submit their application forms in the academy. Application will be considered as complete when all the following things are received by the academy:
·       Application – official transcripts; All school attended
·       SAT/ACT Scores – two letters of recommendation
·       Essay – Copy of birth certificate
·       Application fee – $50
Massachusetts Maritime Academy Tuition Fees
Per year for the courses are: In-State students fee – $1,480 New England Regional Students fee- $2,590
Maritime Regional Students fee- $11,534
Out-of-State Students fee- $16,534
General Fee for all students- $3,920
Technology Fee for all students- $1,714
SGA- $142.00
Room- $6,440
Board: $4,680
Regimental Commuter Board- $936
Lab Fee- $1,103
Massachusetts Maritime Academy Scholarship
Scholarships are available for students on the basis or
their merit. They have to apply for scholarship as early as possible so that
their applications can be considered.
Contact Details of Massachusetts Maritime Academy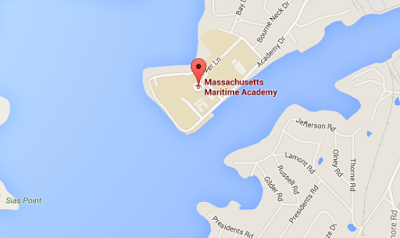 image courtesy: Google Maps
Address: 101 Academy Drive, Buzzards Bay, MA 02532, United
States
Email: admissions@maritime.edu
Phone: 508-830-5087
Fax: 508-830-5077