In my opinion there's nothing more romantic than making memories all over the world with the love of your life. So, my husband and I had chosen Italy and Paris as the places to visit for our honeymoon after meticulous discussion and planning. We decided on a 15 day trip in which we visited Rome, Naples, Ischia, Tuscany and Florence in Italy. Disneyland and Eiffel tower were the places that brought us to Paris. After all how could we not visit the city of love? For us the beauty of a place lies in its history, art, culture and people. We wanted to live and eat just like the locals. This made us look for apartments/villas to stay in on this Airbnb instead of going for impersonal hotel rooms.
Planning- The Start
I had ignored the rightful phrase of "packing light" and dumped in my entire wardrobe in two large suitcases while my husband's essentials easily fit inside a small suitcase. After all sailors are efficient with packing and know exactly what all to take along and what all not to.
In Transit
After the long uncomfortable flight (I'm always uncomfortable in plane journeys) I praised the Gods when we reached our Rome Apartment. All through the airport to the apartment I certainly cursed my choice of heavy packing. Let me tell you it's not easy traveling through the subway while carrying heavy suitcases even though I was carrying the small suitcase and a gigantic purse leaving my husband to handle two big suitcases. The iconic pebbled streets led us to our apartment which was inside a typical European style building.
When in Rome
The host's friend showed us around, gave us maps, phone numbers of restaurants we could order food from and told us about the places we could visit. All in all my husband and I were very smug with our decision of booking through Airbnb. It was spacious apartment with a bedroom, a lounge room with television, a bathroom and a kitchen laden with cutlery. It certainly looked like home away from home.
The next few days we got completely immersed in Rome.  We got lost in the beautiful architecture, the friendly people, the stunning art and the scrumptious food. Some of the places from the numerous places we visited are the gorgeous Vatican, Colosseum, the Roman Forum and the Trevi fountain. We used to travel for 12 hours straight in an attempt to experience Rome and all what it had to offer. I still remember juggling between different metros and gasping at the ethereal monuments. I can still taste the succulent naan like Italian pizzas, natural gelatos, pastas laden with parmesan and prosciutto. We used Yelp to find high rated restaurants. GPS was a big help as well to find places we were looking for.
The beautiful chaos of Naples
We left for Naples through a train in a couple of days, all excited to experience a whole new city. We couldn't help peeping out of the huge windows throughout the journey as the view outside was breathtaking. A lush green trail brought us to Naples, an eclectic town filled with buildings upon buildings. A dear old couple, the host's parents who didn't speak a word of English drove us to our apartment which was in the heart of the city. Even though they didn't know English they managed to explain us where what was kept in the apartment. The sweet old lady had even provided us with a sewing kit! What struck me about Naples was the culmination of all things old and new. Since most of the buildings were given historical status people had built their homes in them or on them. The people were so warm; they couldn't speak English but still tried their best to converse with us, especially the elderly. When the sun went down the town was transformed. Under the twinkling lights, artisans displayed their wares. There were miniatures sculptures depicting scenes at market places and more, and there were houses which gave us a glance into Neapolitan household. These were moving sculptures and some of them were in action washing clothes, some baking pizzas in red hot wood ovens etc. Inside the shops that sold these sculptures, we saw the artisans at work, fascinated as they brought their work to life.
The best pizza we have ever tasted was in a humble little but highly famous restaurant called Sorbillo. It was a simple affair. The chef slathered on a juicy sauce made by plump tomatoes onto a promptly rolled out pizza base and was topped it with thin slices of fresh mozzarella which was then baked in a traditional Italian wood oven. My husband and I weren't impressed when we were handed over the pizza with naan like consistency on a thin sheet of paper. The real magic happened when we tasted it. The flavours just melted into each other. The pizza base was incredibly soft and the topping just perfect. The street food in Naples was simply heavenly and so was the art scene which is not surprising considering we were in Italy.
I have to talk about the tour of Napoli Sotterranea, where we were led 40meters below street level in order to roam through the ancient tunnels dating back to about 2400 years from the ancient Greek to modern age. We walked in a line most of the time as there wasn't space for more than one person to get through the passages. The only thing that illuminated the underground tunnels was the candles we were holding in our hands. This spooky place was even used as a bomb shelter during the World War II. The war museum displays an array of soldier uniforms and weapons. Among other places we visited were the scenic and historic ancient ruins of Pompeii and the active volcano Mount Vesuvius.
Ischia a charming little Island
A ferry took us to Ishchia from Naples. I was spellbound when we arrived. It was the most romantic place I had ever laid my eyes upon. Our host picked us from the port and drove us to the Villa. There was a spattering of cottages inside the villa and the whole area was surrounded by trees and trees of oranges and olives. There were plants of all spices imaginable. Our cottage even had a fireplace which we couldn't manage to light up. Three little terriers greeted us every morning for some petting and maybe a sausage or two. We spent time cooking Italian delicacies in the opulent kitchen. The grocery was bought from a kindly old shop owner who had astounding collection of cheeses, meats, pasta and pizza sauces, and various other things. He didn't speak English but we still had conversations through hand signals. It was a nightly routine to huddle up close together while eating homemade food and delicious Italian food. Sometimes we talked about random things and sometimes we talked about our hopes and dreams. Sometimes we danced to the music that only those who wanted to hear heard.
While the whole city slept, we walked down to the bus stop at night as rain drizzled softly on us and boarded a bus to the Island main market area. We feasted upon unknown delicacies and drank wine. We visited an enchanting castle called Castello Aragonese situated next to the seaside. Afterwards we ate divine seafood and desserts at a restaurant while watching the gentle ocean waves kiss the shore. On our way back home we discovered a park that looked like it was straight out of a fairytale. Moss covered stones and dense trees made me feel like we would come across a Princess' abode soon.
Under the Tuscan sun
The host's parents picked us up from the Cortana train station. As it was late at night all my husband and I could see were the glimmering lights coming from the building on the mountains and nothing else was visible. We stayed in a typical Tuscan style farmhouse. There was an old world charm about that place. A bowl of Italian version of crackers, wine which the host's family had made and some freshly squeezed juice were kept on the table for us to enjoy. Later that night the host dropped in with fluffy darling of a cat and took us to the convenience store. The store we were taken to without any doubt has been one of the best stores I have ever seen.  There were cheeses, desserts, fully made meals, homemade Ragu sauce, astounding variety of meats, exotic bread spreads, an endless collection of different wines and what not. Our host helped us pick out food and wine from the mind boggling offerings. We bought some tempting looking Ragu sauce, lasagna, white and black truffle spread, varieties of meat as my husband is an avid fan of that, some dessert, chips, wine, bread and biscuits. There was no restaurant near the farm house so we had stock up on groceries.
In morning when we went out of the house we were in awe of the beautiful rustic Tuscan beauty. The cat was right outside and I couldn't help but pet it. We roamed, exploring the surroundings. There were farms and farms of olives, grapes, pears and other fruits and vegetables. The cat had taken a permanent residence in our house and demanded for food and snuggles. It was lying on the couch, sleeping most of the times. We arranged for a tour at a winery called Avignonesi. It was an incredible experience learning how wine was made. After wine tasting at the end of the tour we couldn't help purchasing Vin Santo, also known as holy wine or dessert wine. It takes 10 years or more to make a batch of Vin Santo. Afterwards we had dinner at a lovely restaurant nearby and needless to say the food was exceptional.
Since my husband and I enjoy cooking, we had a ball trying to cook different Italian dishes at the farmhouse. One thing, that to date we crave is truffle spread. A dollop of truffle spread on a slice of buttered bread is plain heaven. The homemade Ragu sauce was absolutely yummy. We spent most of our days taking long walks, cooking up a storm and in the night talking or watching shows and movies on Ipad.
The sophisticated Paris
We stayed in a pleasant little loft style apartment in Paris. Eiffel tower and Disneyland were two places I had really been looking forward to. My husband had booked for us to visit the Eiffel tower at night time as it's said it's quite a view then. And it was. The marvelous structure stood proud, lit up with lights, shining in all its glory. We even visited the top floor, where we could feel the tower sway gently with the wind. The view from there was splendid and we couldn't help but notice how ant like everything seemed from up there.  We could see the whole of Paris.
Disneyland was a dream come true. Since I was a little girl I had always dreamt of visiting it. We were there at 10am sharp and left when the park closed late at night. I squealed with excitement when I saw the parades with all my favourite characters dancing with glee. Like little kids, we rode almost all the rides that the park had to offer.
Passport stolen
Sadly, our honeymoon had come to an end and with a heavy heart we packed our bags and took a metro to go to the airport. My husband noticed that the file that had our passports, money and cards was missing from his backpack. Our world came crashing down and we got of the metro on an unknown station before our stop trying to get ourselves together. We went numb. We were in a strange country where no one spoke a word of English and we didn't know where or to whom to go to, also it was 5 in the morning. I got an idea and typed on a translator app that I had downloaded, "Our passports got stolen in the metro. Where is the police station?" I showed the French converted version to a Parisian couple standing nearby. The couple's eyes went wide and they offered to take us to the police station. We talked through the app. The police at the police station we arrived at refused to help us. They said that they did not take FIR reports. We were told that there was another police station for that and were given another address. We thanked the couple that had helped us and boarded the metro to reach the other police station. Thankfully the metro travelling was free that day. So dragging along the numerous travel bags and suitcases we embarked on a wild goose chase.
With the help of GPS we reached the police station only to find that it was closed even though there were officers sitting inside. We knocked on the glass doors helplessly trying to get their attention. An officer came out and told us to come later as the police station would've opened after 7am and it was around 6 am. We stood outside, lost and hopeless with no idea on what to do. We were certainly going to miss our flight back home. We called back home and narrated the mishap and asked them to get our cards blocked. After a while the officers took pity on us and called us inside before the opening time. They forged an FIR after taking all the necessary details from us which we filled in a form after a lot of difficulty as it was completely in French.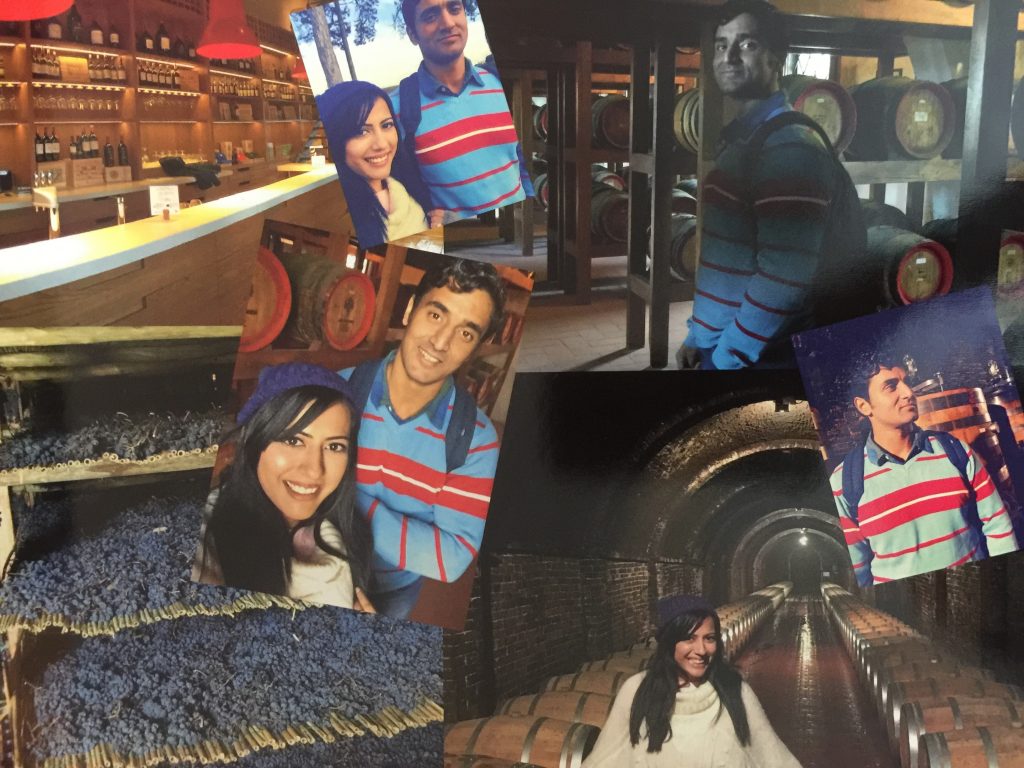 Then we decided to go to the Indian Embassy through the metro to get some help.  It wasn't an easy task travelling from one place to another with heavy baggage and the places were quite far away from each other. When we got off the metro two Indian men overheard us talking about the whole fiasco. They stopped us and informed us that the embassy was closed on that day. I tried hard not to break down after hearing one bad news after another. The kind men took us to a restaurant as they knew we were hungry and tired and that we didn't have a penny in our pockets. We had coffee only as we were too worked up to have a bite of anything else. They offered us to stay in a Gurdwara and gave us the address and phone number of the place.
My husband and I walked down to the embassy even though it was closed. We sat outside on the street on our suitcases discussing possible options. In the meanwhile we got a call from my father-in-law and due to the fact he is in Indian Airforce he knew someone in the embassy. After a lot of calls a man from embassy came and picked us up. We finally breathed in relief. We had found a way to move forward. The embassy staff was very helpful and they made emergency certificates for us. New flights back home got booked.
I never in my dreams had imagined that maybe God had much in store for us that day. On arriving at the airport we were informed that we didn't have any flight booking. It was 9pm then and we had been roaming on streets since 5am. And that's when I finally broke down in tears. My husband called back home to check with his brother about the booking. There was a booking but the airport attendant's computer didn't show it. After I calmed down, my husband called the flight's customer care. Things got sorted out after long talks and we managed to board the flight just 20 minutes before it was supposed to leave. When we sat in the plane no word can describe the feeling we had. Finally, we were going back home.
This Story is of Sailor Queen 'Radhika Kharb', who hails from colorful country-India. She is a Bachelor in Fine Arts and an author of several books. Have worked with several publishing houses as well. Kickboxing, boxing and Jiu Jitsu are some of her hobby. A big Fan of 'Game of Thrones'.
If you have something to ask her, please leave the comments below. If you are also inspired to share your love story, mail us at contact@marinersgalaxy.com.