Great Lakes Maritime Academy Courses, Admission, Ranking and Acceptance Rate. Get to know about Great Lakes Maritime Academy ranking, acceptance rate, fee structure, courses, alumni and contact detail as well.
The Great Lakes Maritime Academy is located on West Grand Traverse Bay, Traverse City in Michigan. It is in Northwestern Michigan College. It was established in 1969, in order to train mariners. It provides license to both men and women when they are proficient to
become mariners on ships.
Image Courtesy: Northwestern Michigan College
The trained mariners can handle ships of unlimited horsepower and tonnage. Being the only academy having freshwater among the seven maritime academies in The United States made Great Lakes Maritime Academy unique. Also in The United States it is the only Maritime Academy which offers an opportunity for graduates to procure license for both the oceans and the Great Lakes.
The Academy is in partnership with the Ferris State University which provides cadets and maritime credentials needed. For better preparation in management level positions abroad ship of graduates the dual-degree program is considered beneficial. The Great Lakes Maritime Academy is not only a wonderful college experience, but the college trains and educates the top engineering and deck officers that can handle the ships with perfection.
Courses offered by Great Lakes Maritime Academy
Various courses for Deck Officer Program are available. Deck officers are trained to become pilots and mates. Deck officers manage the deck department and they direct the loading and discharging of cargo.
Various courses are available for Engineering Officer Program. They are trained to face the challenges in operating any commercial ship on the ocean and the Great Lakes as merchant marine officers.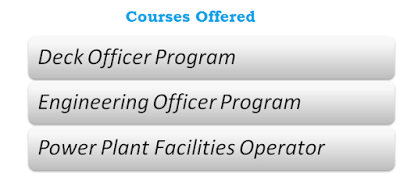 Image Courtesy: Marinersgalaxy.com
Some courses are available for Power Plant Facilities Operator. This program is so designed that an individual can be prepares for the maintenance and power production industries such as hospitals, power plants, manufacturing plants and manufacturing plants.
The individuals who are admitted to the academy with a previously obtained bachelor's degree are not required to complete the four year business administration degree, but may wish to do so. Instead, they will register in a three-year maritime curriculum in either deck or engineering. This program integrates two years of maritime curriculum and three semesters at sea.  Read this interesting article: 
Movies that every seafarer should watch Northwestern Michigan College
won authorization to offer a bachelor degree of science in maritime technology through this academy. The college has been affiliated by the U.S Maritime administration.
How to apply for Great Lakes Maritime Academy?
Applicants can fill up an application form which is available on the official website of The Great Lakes Maritime Academy.
Great Lakes Maritime Academy Acceptance Rate and Ranking
The acceptance rate of the college is far less than its counterparts, if we start comparing so. Around 24% is the average rate by which students are accepted. So you need to have good grades in highs to get in.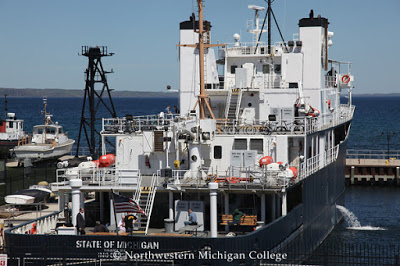 Image Courtesy:Great
Lakes Maritime Academy
As far ranking is considered this is highly reputed school for maritime studies. So, probably it is among the top 5. It is difficult to give the number position as every college is good in some or the other way. But definitely it is among the most sought after.
Fees structure of Great Lakes Maritime Academy
Fees for deck officer program
Average Tuition fees-
For candidates not having bachelor degree: $12,420 to $13,916
For candidates having bachelor degree: $16,155 to $18,089
Average books cost-
Without bachelor degree: $900
With bachelor degree: $900
Average room charge-
Without bachelor degree: $8,150
With bachelor degree: They are not required to live in residence hall.
Fees for engineering officer program
Average Tuition fees:
$11,563 to $13,466
Average room charge: $8,300
Average books cost: $650
For Power
Plant Engineer visit this link: Fee Structure
Great Lakes Maritime Academy Alumni
A college is great not because of the infrastructure and all. If the people who have passed out from there and even after that how much they are connected to the college, that makes college unique. Alumni are not only good for the college repo and goodwill, but also for the students who are new in the college, as they get guidance for the real world out there.
Check this interesting video on the Academy
This academy has a good alumni record keeping and even has a dedicated website for it. Recently the college was asking for valuable suggestions from the passed out cadets for their newly built simulators in the campus.
Great Lakes Maritime Academy Webcam
One of the interesting parts of the academy resources is that they provide live webcam view of their campus. This is unique in own way. There are multiple webcams provided and you can even control them to get better view of the surrounding.
Contact Details of Great Lakes Maritime Academy
Image Courtesy: Google Maps
Address- 715 E. Front
St.Traverse City, MI 49686
Phone: (231) 995-1200;
(877) 824-7447
Fax: (231) 995-1318
Website: www.nmc.eduThis was all from this article, hope you enjoyed reading Great Lakes Maritime Academy.