"Sailors life is completely an adventurous one. They face cramped, stark, noisy, and dangerous weather conditions at sea". I joined ship on 6th Nov 2019 on a 3 months contract. My sign off was due on 6th February. But due to long voyage my sign off was not possible. Then a possibility of sign off came from Brazil on 8th May, but as my reliever couldn't reach on time, it lingered on once again. "I can't change the direction of the wind, but I can adjust my sails to always reach my destination."
Keeping my spirits high, I continued my sailing with a hope of sign off at Argentina. But unfortunately, my reliever couldn't reach on time and Argentina airport was closed. Although some of my co-sailors signed off from Argentina as their relievers had already arrived. This left me completely disheartened. India also had begun with the lockdown from 24th march, with a restriction on international flights as well.
Sign off procedure Gibraltar to India
Gibraltor port circular says can stay for 10 days but require exit ticket from UK
Signed off Gibraltar on 2nd June with hotel stay at holiday inn till 5 June as 4 hotels are quarantine hotels. On 5th, flight to Heathrow with overnight stay. Eatery were open till 2200, so need to keep water food by that time no lounge is permitted, so you need to pass time on chair only.

Doha to Delhi flight on 7th June and but Doha allowing only 22 hrs stay, so to just pass time we flew to Amsterdam and came to Doha @2200 to fit in window of 22 hrs. Tickets were not confirmed till we reached Amsterdam. Such a perplexed situation it was. Lounge was available at the Doha Airport of 55 USD for 6 hour, I took 12 hrs. it was good, took shower food coffee etc. Then baggage and tags checked for Doha Delhi flight finally we boarded Delhi flight. Please carry at least 5-6 marks with you as in UK flights they ask you to change each after 4 hours.
On 8th June, I Reached Delhi morning 3:30, then groups were made state wise and after immigration and customs we went to UP counter where DM Gautam Buddh Nagar took undertaking that we will stay 7 days quarantine in hotel and report to DM office.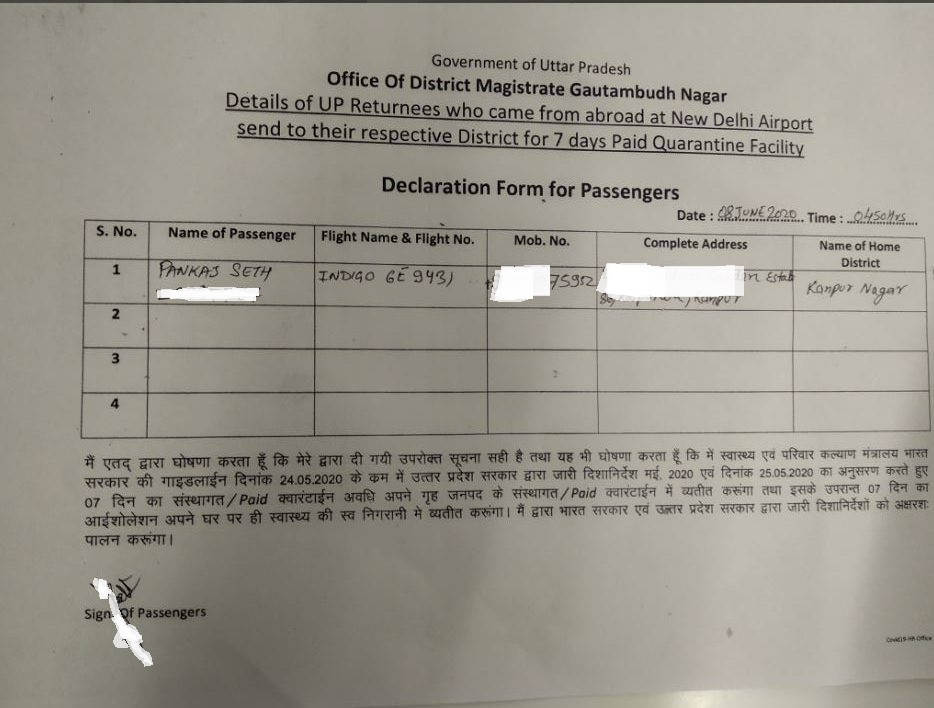 I took car to Kanpur reported DM office where I was asked to go to Hotel for 7 days quarantine where after 5 days COVID test will be done and if negative can go home with 7 days self quarantine.
My mother is a COPD patient, on oxygen 24/7 and my father,81 years, underwent a surgery for mouth cancer. The situation at my home was pathetic. My wife, herself being a hypertension patient, had to take care of my parents and 3 kids, all by herself. My physical presence at home was inevitable. I decided to raise my voice through Twitter, so that some action could be taken for the seafarers. Every morning I woke up with a ray of hope but till evening I had shattered dreams in hand.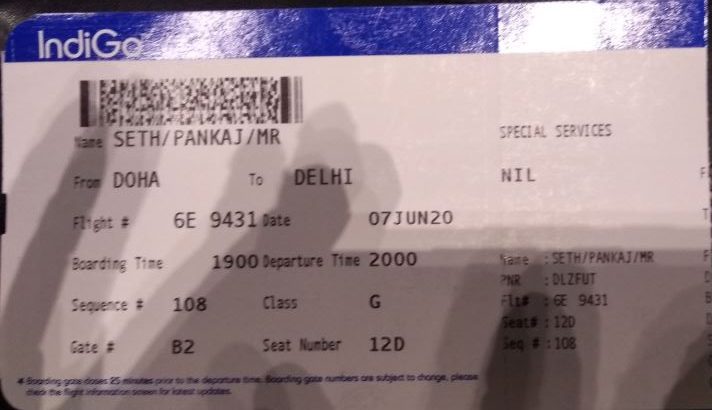 Then with a lot of efforts, things began to materialize. There was first charter flight from Doha to Delhi on 7th June. But they required e-ticket, which we managed to get; my flight was from Gibraltar to London. There was a 12 hr stay at Heathrow airport. Then just to kill some time, we were made to fly to Amsterdam and it was a tiring experience.
Originally Written By: Pankaj Seth, A Seafarer By Profession- A frontline Worker. He can be reached here on twitter: @panseth