Being married to a sailor is like being in a long distance relationship for most of your life. I would be lying if I say it's easy. And then people around you and society have several questions; surprised/shocked at how our life functions. I get to hear things like – why did you choose to marry a sailor? It must be so difficult for you. What makes you working your ass off, your husband already makes good money? And many similar questions that make me feel like I am from a different world altogether! And most common question which I always get to hear whenever I go to a family function or marriage- "Beta fir se akele" (Again alone) and I get speechless. So its 2.5 years been married to a Sailor and the biggest grief I had is that I haven't celebrated a single B'day, Anniversary and nor even any festival with my Husband so far, but then this is not the end of life and what I have been told by sailor in these years is that our most special days are the ones when we are together. So dates are just the numbers now. Life is like a party ground when he is home as we try to make the most of our times together.
I never contemplated on what challenges a mariner's wife comes across until I married one. We women deserve salutation and admiration from family as well as society, our role more often understood than told. Life of a seafarer is not a cakewalk, neither for him nor for his wife. And there are moments when we get to face few bizarre questions from the society. I will take you through few of them today as mentioned in the first few lines. So I will mention questions and will write my response to those which I always try to give to each one who asks me such things.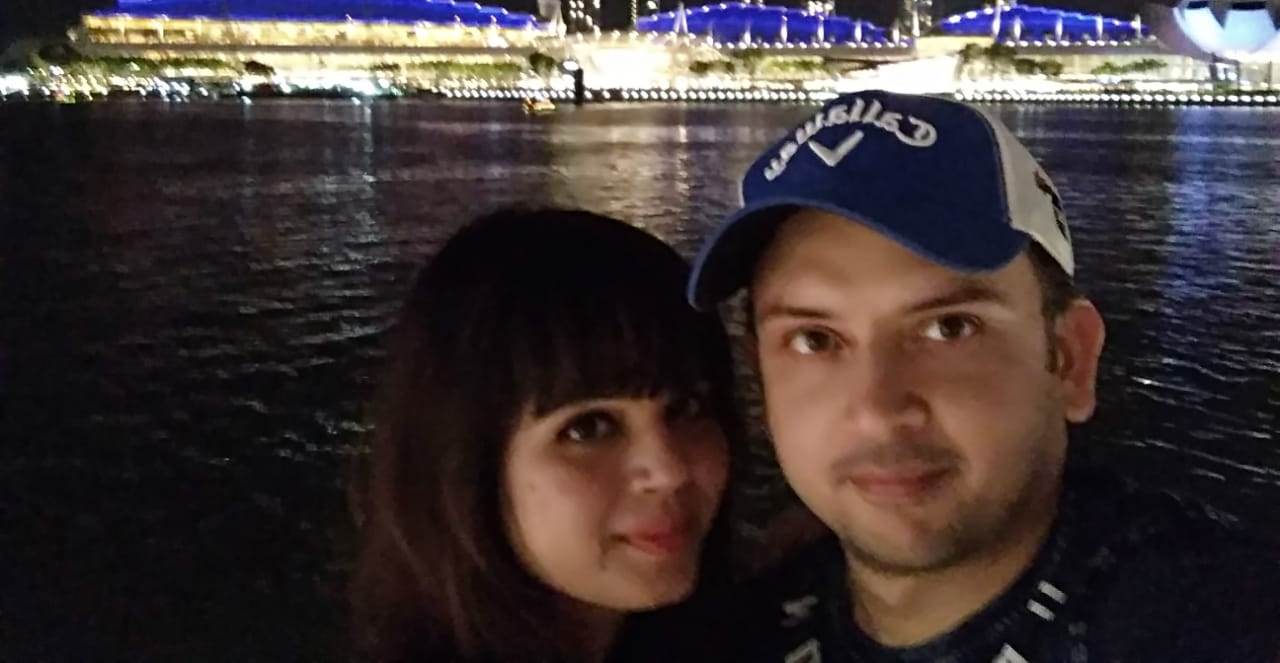 Why did you choose to marry a Sailor? Because I loved him and that's the perfect one liner reply. Yes it was my own choice marrying him, though I never realized before marriage that would be this difficult but then love conquers all. One thing which I have realized been in this relation is when you make your own choice you can't complain. So I will take you all through the small conversation with my Mom and since that day I decided that I won't cry in front of anyone missing him. It was Amit's first contract after marriage (we got married in November end and he left after 2 months for his contract) and it was like upside down for me. I use to cry whole day sinking deeply and I hardly use to talk to anyone. I was talking to my mom on call one day and she asked me why don't you talk to us and I busted in tears, crying like a baby and she said "Beta tumne apne pasand ki shaadi ki" (You married a person of your choice) wish she could have understood the situation but that day I realized if my mom couldn't understand it there is no one in the world who can imagine what I am going through. And since that day I always resist discussing much about my missing scenes with anyone.
What makes you work, your husband already earns good money? And this is the most overrated question which I hear more often. So let me tell you guys, I can roam around the world and have a luxurious life but still I prefer to make money and work rather sailing with my sailor. After marriage, I would have given up my profession to sail with him (always had that option open for me) but I really appreciate my husband for this that he made me realize the importance of my work. I feel happy working and earning & taking care of my own expenses. It is in the mind of people that a sailor wife will just sit back and enjoy the luxury of life as husband is already earning (better than any land based job).
Going to a family function alone- I belong to a very big family, where family functions is like gala time and all my cousins and family members wherever they are in the world ensure that they are joining these functions. And in 2.5 years of marriage Amit has not been able to join any of such ceremony and the moment people see me alone I have been asked the same question every time "Beta hmesha akele aajaati ho" (You always come alone) and I am like if this is in my hand we would not be celebrating our most special days apart. Well we can't make them understand everything.
What are you so busy in? I hear this from many of my friends and family members too often. So let me clarify I am not busy neither I am depressed it's just that I have my own space of loneliness where I like to live sometimes. I have my happy days when he is here next to me, I feel like talking to everyone, celebrating and enjoying life and I have my low days as well like right now when sailor is stuck at sea and there is no information of sign off.
So at the end it is up to us that how we take things, "Kuch to log kahenge, logo kakaam h kehna"(People always say something). We are not here to prove anyone anything. No matter how long you've been into a relationship or sailed; joining gives the same loneliness and sign off the same joy. Waving goodbye to him with tears dwelling in my eyes every time he leaves. Dolling up on all festivals and functions with a fake smile and wondering how he must be missing us, celebrating festival like karwachauth (Indian festival) virtually and looking at his face on phone, tossing and turning in my bed each night with tears slowly piling on my pillow. I have started living this life; have learnt a lot and process is still going on to learn more.
About the Author:
I am Surabhi, a PR Professional and wife of 2nd Engine officer with HAL. In my spare time, I love to do interior and I feel like painting every wall of my house in my own colors. Being a PR Professional & an Image consultant, I have always got other people interviewed and write stories for them and this is for the first time, I tried my hands on my own story. Hope you all will love to read it.