DG Approved Doctors in Gujarat-Latest
List of DG Approved Doctors in Gujarat-Jamnagar and Kandla, get to know about them here for having your medical done.
You will need DG Approved medical for various purposes in Indian and other work outside the country.  Be it joining any
merchant navy college
or joining a ship or going for an official work that requires such certificates. As of now, there are around 5 approved doctors in whole Gujarat That can carry out the medical.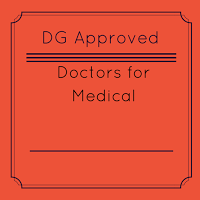 DG Approved Doctors in Gujarat
Below is the list of dg approved doctors in Gujarat. seafarers living here can get their medical done from here. This is essential as per the new mlc convention. You can ask for the appointment from the doctors on a prior notice.
Fees of these doctors will vary and candidates are advised to confirm the same. Also, they should carry their latest photographs and if possible they should go without having breakfast. Information about DG Approved doctors in Jamnagar and Kandla is given below.
DG Approved doctors in Jamnagar and Kandla
1)    Dr. M. M. Patel
J.M. Baxi
& Company, Arihand Krupa, Near
Panchavati Petrol Pump,
Pandit
Nehru Marg, Jamnagar-361002.
Telephone
Number (0288) 671027 1674028 / 557130
……………………………………………………………………………….
2)    Dr. Bakulesh H. Rajyagor
Occupational
Health Centre,
Reliance
Industries Limited,
Hazira-Surat
Road, P.O. Batha,
Surat-394510
……………………………………………………………………………….
3)    Dr. Rallapalli Rajesh
Year-2005
Occupational
Health & Family Welfare Centre,
Reliance
Greens, Refinery Division,
 Mott khavd i , P.O. Digvijayg ram ,
Dist.
Jamnagar-361140
 ……………………………………………………………………………….
4)    Dr. Shah Sunil P
Shah
Hospital, Behind Janta Market -2,
Opposite
Adarsh Market, Panchbatti,
Bharuch-392001
Phone
Number-241402
 ……………………………………………………………………………….
5)    Dr. Gyneshwar Rao
Sivananda
Hospital (The Divine Life Society)
Post
Office Road, Adipur, Kutch.
Phone
Number-02836-260577, 263245
……………………………………………………………………………….
For more information in to this matter please leave your comment below. So this was the information about the DG Approved doctors in Gujarat.